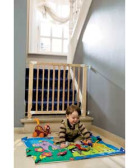 This Mamas and Papas extending safety gate is reduced from £39.99 to £19.99 right now at Argos.
I realise safety gates are all about keeping children, um, safe and that the way the thing looks isn't exactly of paramount importance but personally I much prefer the look of this natural wood finish to the white metal versions available. If you have to turn your home into a child-proof zone, which you pretty much have no choice about if you're a parent and want to keep your offspring alive and well, then these strike me as a good compromise. Safe and stylish.
Safety gates are a must if there's a small person of crawling age or older in your house. They can be fitted at the top and bottom of stairs, as well as to prevent your baby getting access to rooms you want to keep her out of. Gates are usually suitable up to 24 months, but as Argos point out, do remember this is only a guide - some children are naturally more active and inquisitive than others!
My little darlings managed to work out how to open our safety gates yonks ago but we keep one up at the bottom of the stairs just to keep visiting baby friends out of harm's way.

At this price I'd say it's worth investing in one of these for any relatives' homes that you might be likely to visit on a regular basis. My parents don't keep theirs up all the time but it made visits to them so much easier to know that the stairs could easily be made into a no-go zone when my lads were little.
All of Argos' safety gates comply with BS EN 1930. Safety gates vary in width so it is important to select one that will fit securely. Measure the gap to make sure the safety gate you choose fits perfectly, before you buy.
Thanks to holly100 on HUKD