SnapMe Garden Patch UV Swimsuit Review

It's summer time! And holidays! Which mean that the kids spend a lot more time in their swimming costumes than they normally do, even if just for the paddling pool or sprinklers in the garden. When Sportbaby sent us a SnapMe Garden Patch UV Swimsuit to review I was quite pleased - my daughter has grown out of all her costumes, so the timing was perfect.
Sportbaby is a small family business, run by two sisters with a background in sports buying and keeping fit. They make an effort with customer service, and their orders are processed quickly and most are despatched the same day.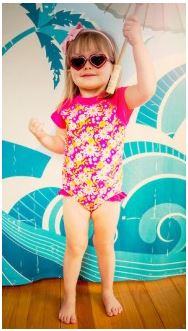 Sportbaby offer high quality baby, girl's and boy's swimwear, UV sun protection, ski wear, Converse leisure and outdoor waterproof clothing sourced from popular and niche brands.  They stock items from sizes newborn to age 8 on most ranges.
The Swimsuit they sent us is a costume, but it also has a few fabulous features, which isn't something you'd normally say of a costume!
SnapMe Swimwear is exclusive to Sportbaby and new to the UK. It too was designed by a mum who saw a need and filled it.
The SnapMe swimsuit is fully lined and has UPF50+ to help protect little ones from the sun. Of course it doesn't cover the whole body, so you still need sunblock, but at least if you are spending the day on the beach, you only need to top up the sunblock on areas not covered by the swimsuit.
The swimsuit is made from 85% Polyester and 15% Spandex. It has a really useful rash guard top to protect little shoulders from the sun while, I suppose, preventing rubbing and schaffing.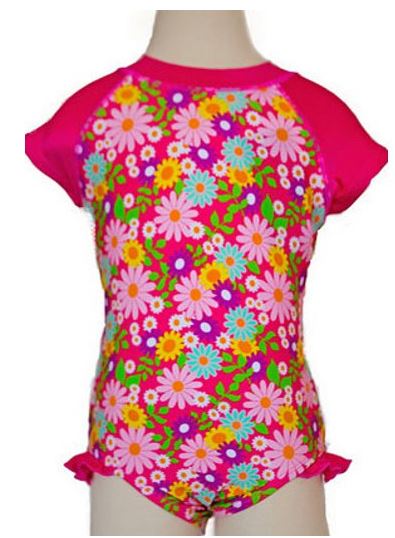 We took this swimsuit with us to the opening of DuploValley at Legoland, and I put it on my daughter in the change rooms. I was really surprised to find the thing that makes this swimsuit different, unique and absolutely awesome: It has two rows of popper fastenings that allow you to change a nappy or take a little one to the loo without trying to wrestle a wet costume off - or even worse, back on - to your squirming wet child.
It is seriously genius.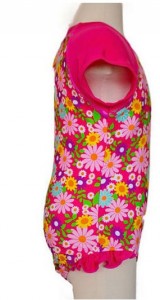 Since it's a costume, it dries pretty quickly - as fast as any other costume, really.
It also washes well, if you follow the instructions. I haven't tried it in hot water and haven't tumble dried it: I really like this swimsuit and don't want to risk damaging it.
The pattern is sweet and girly, but I also like that it's very child-ish, by which I mean it looks like a child's costume, not a sexy woman's costume in a child size. It has a high neck, covered shoulders and low cut legs, meaning it gives fabulous sun protection and is perfect for a little girl. The frills on the legs are pretty cute too!
SnapMe Garden Patch UV Swimsuit is £21.99, although they currently have a 20% discount on, making it £17.59.
The Good
Where to start?
I think it's a beautiful costume. It's really pretty.
It's very well made
The 'features' are really useful: built in UV Protection and rash protection are all good.
The poppers are brilliant. I can't imagine why all kids costumes don't have this? It's made nipping to the toilet so much easier.  It's one of those 'why didn't I think of that!' things. Definitely worth it.
The Bad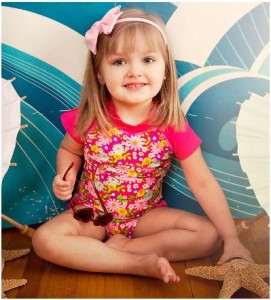 I can't think of anything bad.
The Verdict
At £21.99 it's probably a bit  more than what you'd pay in the seasonal isle of your local supermarket, but if you're a regular swimmer, or will be spending a lot of time in it, it's totally worth it.