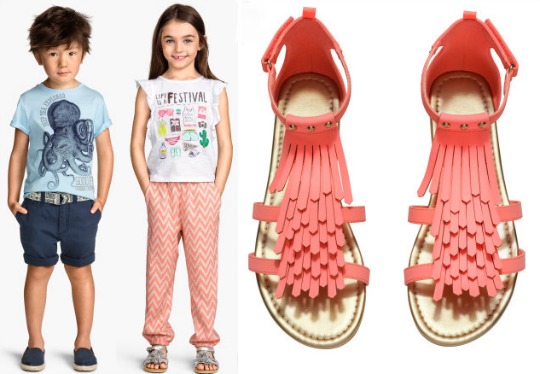 H&M are one of my favourite retailers on the High Street. It's their kids clothing range that does it for me. It's fashionable without being age inappropriate and it's so affordable. Just now they have a great selection of Summer Essentials for just £5.99. They are bright, colourful and you could buy a few pieces to mix and match without leaving yourself skint.
Let's start with the girls selection of the £5.99 clothing goodies. These Woven Trousers* come in six different designs. They ideal for matching with plain coloured tops to create a cheap outfit. Prefer an all in one type outfit? The Patterned Playsuit* comes in three different patterns and very cool for the summer.
As for the boys, you have got to love these Chino Shorts*. Very tidy and ever so cute. These are a prime example of the value for money you get from H&M.
There are shoes included too, these Girls Sandals* are very fashionable and come in two different colours. Or these Fabric Trainers* that come in three colours.
You can get your order delivered to your front door for £3.90.