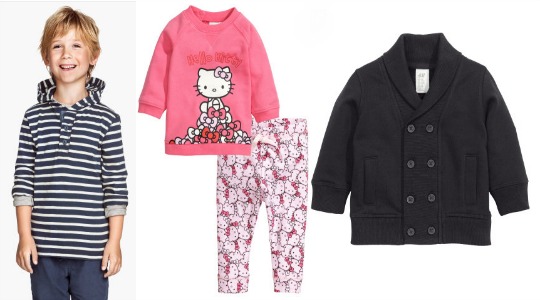 Today, when in my local H&M I got chatting to a member of staff who was very helpful indeed. I had picked up three baby items in the sale and when I went to pay I got a pleasant surprise, the total I had to pay was £9. I had chosen a pair of uber cool Skinny Jeans at £5, a cute thin Knit Jumper for £4 and a lovely Long-Sleeved T-Shirt for £2 all for just £9. This 3 for 2 offer is not on online.
When asking about the 3 for 2 offer, I was told that it's on ALL Children's Clothing Sale items due to the fact that they weren't selling as fast as anticipated. He was also very sure that this is a nationwide deal, so it should be on in a H&M near you. Obviously, your H&M may not be participating if they have no sale stock left.
If you are wanting to make a special trip for this offer, I would ring the store first to make sure that the offer is on in that store. If you are passing one it is worth popping in to see what you can get.
Be sure to let us know if you manage to bag some bargains at your local H&M.