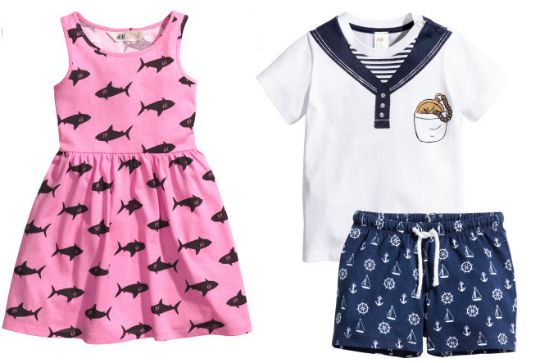 Just when we thought H&M couldn't get any cheaper... they have reduced many Sale items even further. This means that you can get the kids new clothes for the summer holidays without it bankrupting you. Many items are under £5 but make sure you spend £6 or over or H&M won't fulfil your order. There are a total of 893 items reduced in the sale so you will be spoilt for choice.
H&M have reduced these Jersey Dresses* from £2.99 to just £2 and these Frilled Dresses* are also the same price. You get to choose from various different patterns. You could even buy a few at this tiny price.
Other great bargains include these: Denim Shorts with Braces* was £17.99 now £9, Dungaree Shorts* was £17.99 now £10, Jersey Sailor Set* was £7.99 now £5, Two Pack of Bodysuits* was £6.99 now £4 and Loose Jeans* was £9.99 now £6.
You can have your Sale bargains delivered to your home for £3.90. We are waiting not so patiently on the day that H&M finally offer a Click and Collect service. There was talk of it not so long ago, so fingers crossed it happens soon.