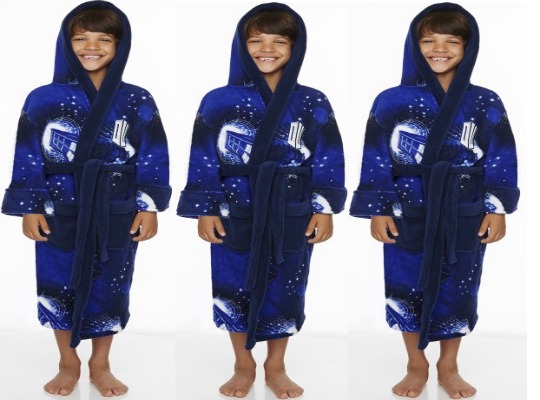 Bargain Alert! Bargain Alert! This Dr Who Tardis Voyage Bathrobe is reduced from £18.99 to just £4.99 at Internet Gift Store. If you didn't already know they are offering FREE delivery on ALL orders. There's no minimum spend involved so buy what you like. Get a further 10% off this Dr Who Dressing Gown by using promo code 1ST10 at the checkout, making it just £4.49 delivered. You must be a new customer to use that code.
You may be thinking that it's completely the wrong time of year for a cosy bathrobe but it's not. Wrap it around your child when they come in freezing from the cold paddling pool.
It's made from 100% polyester that is like a plush/fleecy material. This is so cheap you might want to buy it now and tuck it away for that birthday later in the year or even for Christmas.
With a hood and a belt to keep it fastened, your little one will be "snug as a bug in a rug". The only size available is Medium and that caters for the seven to nine years old bracket but it's a Bathrobe so it doesn't have to be a precise fit, if you know what I mean.