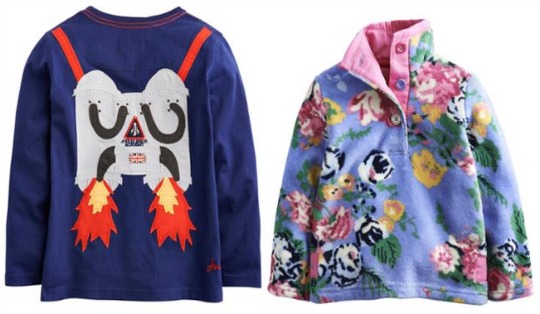 Joules is one of those stores that I rate highly, but I only shop with when they have a sale. Let's face it, they are pretty pricey, but their sale looks very promising indeed. Now's the time to grab some lovely childrenswear at great prices. Don't expect Primark prices though, think more along the lines of Next. Boys' items start at £3.95 and girls' at £4.95.
Oh why oh why don't I have a daughter to dress up? This long sleeved floral top* is now just £7.95, and it's nothing short of adorable! This Dark Ruby Skirt* for £12.95 would look just gorgeous with this Cream Cardigan*for £16.95. Their clothes are uber trendy like fashion retailers River Island or New Look, but rather classic and modern.
The Boys' stuff is as lovely as the girls' with items like this Rocket T-Shirt*for £14.95 and this Half Zip Sweatshirt*for £12.95.
Joules are as popular as ever and in my eyes seem to have taken the place of the likes of Boden. Their clothing is in that kind of style and they seemed to have exploding into that premium High Street genre.
You can save on the £3.95 postage charge by Click and Collect for FREE from your local Joules store.