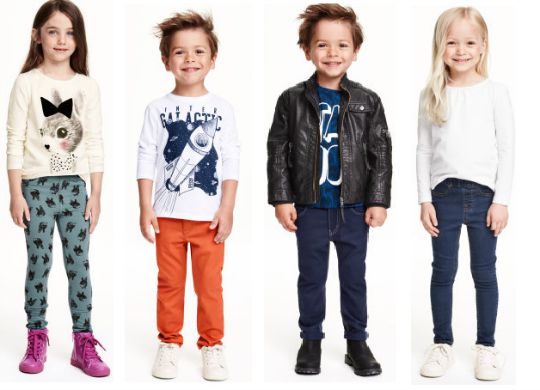 As you may already know H&M is one of my favourites on the High Street. I am rarely disappointed when I order online and I constantly rave about their customer service. Why do I love them so much? They are offer fashionable clothing for the kids, at better quality than any of the budget retailers for tiny prices. For example, they have an offer of a Mix and Match Top and Bottom Outfit for just £6.99. Use offer code 3068 and it's yours for just £6.29.
There are 32 different styles to mix and match, so you are bound to find something you like. I tend to find most retailers a touch heavy on girls clothes and the boys selection can be pretty poor. H&M don't disappoint on that front. They offer a good mixture for both boys and girls.
Remember, any top and bottoms from this selection will only cost you £6.29 with that code. Here are some items that you can choose from: Twill Trousers*, Slim Jeans*, Jeggings*, Bodysuit*, Cotton Top* and so much more.
Delivery is a flat charge of £3.90, no matter how much or little you buy. We are hoping that they come to their senses one day and launch a Click and Collect service.