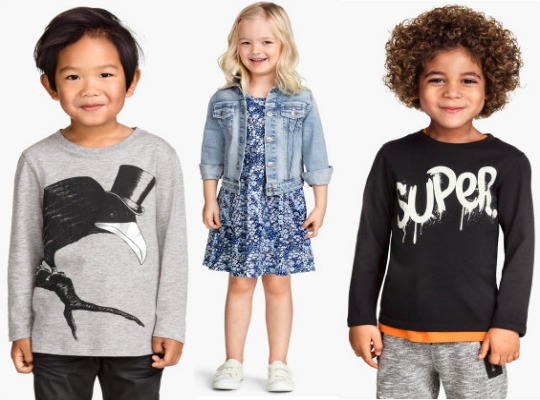 H&M have brought out those special £2.99 items again. Be quick though as these tend to sell out very quickly.  There are items for both boys and girls to choose from and there are a variety of designs to pick from too. Normally you are limited to two £2.99 special purchases, but you can buy say a dress and a t-shirt, times two.
The Long Sleeved T-Shirt*comes in a choice of four designs and are for boys. They are made of 60% Cotton 40% Polyester and can be machine washed. These are ideal for everyday wear. These ones* are also included.
T-Shirt with Print* comes in a choice of four colours and is available in sizes 1 and a half to 10 years. The green one reads "Master of Mischief" which is certainly apt for my boys.
For the girls, the Jersey Top with Print* and the very pretty Jersey Dress* which comes in four different colours. The dresses are an absolute steal and these will sell out. With the warmer weather on it's way you can save £££'s by buying them now.
Delivery costs £3.90 and there's currently no option to collect from H&M stores.