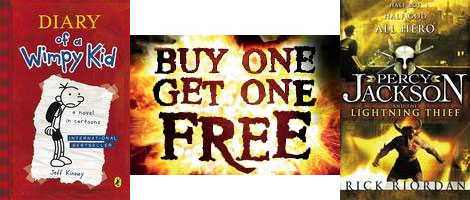 I'm in book mode today!  There are currently Buy One Get One Free book deals to be had at Waterstones (on selected titles).
Click HERE to BOGOF over to Waterstones
Do you remember a life without Waterstones? Miserable wasn't it!
I love bookshops; in fact, I just love anything to do with books full stop.
It's just so fantastic to be able to lose yourself in the pages and story of a book and go on different adventures; no batteries required, no flashing lights, no TV necessary...just a great book and a big dollop of imagination!
Titles include a fair few of the, apparently, VERY popular Percy Jackson series.
I don't know anything about Percy Jackson and The Lightning Thief other than my teenage daughter keeps going on about it, and was miffed that it was an inflight movie on my long haul trip and not her short haul one.
But having jsut read the synposis of it, it sounds quite cool:
"Look, I didn't want to be a half-blood. I never asked to be the son of a Greek God. I was just a normal kid, going to school, playing basketball, skateboarding. The usual. Until, I accidentally vaporized my maths teacher. That's when things started really going wrong"
OOPS!
Included are also books by the wonderful Michael Morpurgo, some Horrid Henry books too and prices range between £4.18 to £6.99.
You can check for instore availability online or order online and pay NOTHING for delivery, as Waterstones are currently offering free delivery - how many MORE free things can one ask for (apart from everything, of course!)?
You want MORE? OK - spend over £20 before midday on Monday 25 October, apply this code to your basket - HC8375 - and you'll get 10% off your order too; how's that?!
Thanks to iamthewalrus over at HUKD!