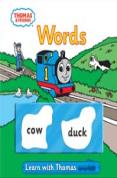 This has to be one of my favourite Thomas books!
Funnily enough it wasn't a book I was going to choose;  my youngest 'chose' it when we were in a book shop looking at the other little Thomas story books, he picked it up and then flatly refused to be parted with it...you know how that goes right?
The concept is simple but my son, at least, still hasn't tired of it - the book pages have shaped gaps that match the cardboard shapes which have words on that correspond to the what is happening on the page; a literary jigsaw puzzle.
The pictures are bright and a lot of time can be spent discussing what's going on within the page; your child will learn first basic words like cat, hat etc, first numbers and colours.
The only reservation I had when I bought this is that the shapes would get lost - I didn't need to worry though as my youngest almost seemed to enjoy putting the shapes back in their little place on the front of the book.
Thanks to millarcat over at HUKD!