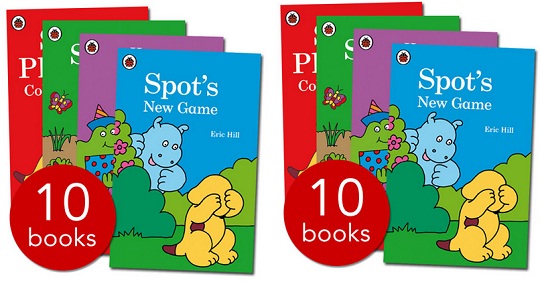 Ten Spot the Dog books in one bag, for £9.99 at The Book People. That's approximately a quid per book. The RRP for this set is £47.90. The last time we spotted (geddit? OK so that was a bad pun) this deal was back in September of last year. So it does come around with a reasonable frequency, but not that often.
He's one of the most recognisable children's characters and now he's back in a new-look collection packed in a colourful cloth bag. Eric Hill's Spot series, with bold illustrations and stories about situations that children will experience in their own lives, is an enduring favourite. In this set, you can share Spot's adventures as he plays a new game, goes on a camping trip and visits Grandma, and your little one can continue the fun with two colouring books to complete.
The books in the set are:
Happy Birthday Spot
Spot's Tummy Ache
Spot's Fun Time
Spot's New Game
Spot and his Grandma
Spot's Garden
Spot's Show and Tell
Spot's Playtime
Time for bed, Spot
Spot's Camping Trip
Here's what one customer had to say on the website: "With this selection there are eight good stories to keep little ones entertained. Yes, there are more words when compared with other Spot books, but I think that makes them better value. They actually have a story that is closer to the original programme episodes. They also come in a nice little bag, only real issue is that it's a little tight fitting so children might need help getting the books out. Overall a nice colourful and fun selection of books for the money."
Thanks to lucerysmum at HUKD!