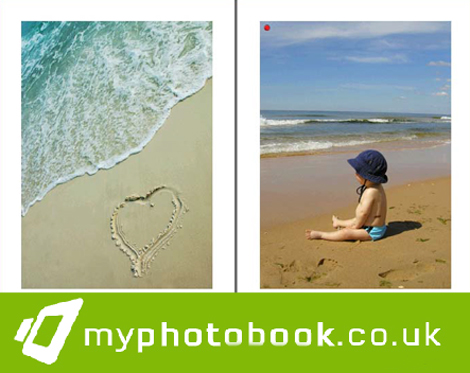 This myphotobook discount code will give you £10 off any photobook created before (and including) Sunday 14 March
Click HERE to go to myphotobook
Discount: £10

Minimum Spend: £0.00

Promotional Code: MUM2010

Expires: Sunday 14 March 2010
Putting my photographer hat on for a minute I can tell you that these sorts of things take a little while to put together, so please take your time and choose your images carefully.
Now whilst this code was been produced for Mother's Day there's not enough time for you to create your book, have it printed and delivered to you in time for Sunday, BUT if you really want to give a myphotobook book as a Mother's Day gift then here's a suggestion: put your book together and order it before Sunday, make a 'gift card' with a collage of some of the photos you've used in the book and say that a very special present is 'coming soon'.
With a gift as personal and special as this I wouldn't mind waiting an extra few days (delivery time is 4 to 5 working days after you submit your payment).
Obviously you don't have to use this for a Mother's Day gift as the applications for this sort of thing are endless - weddings, birthdays, christenings, graduations, holidays, new arrivals, portfolios or even just because you feel like it!
The choices are almost endless and prices start from £7.95 for a little pocket book with 12 pages, right up to £300 plus for big coffee-table books leather bound with 250 pages; there are also various sizes in between
Simply insert the code in the "Discount Code" field as you go through the myphotobook ordering process and you will receive your discount until 14/3/2010; enjoy!
Thanks to SlayerKat over at HUKD!