Tristan McGee, an author from the UK, has written a series of books for children on safety. Hari's World is a unique range of books and resources for teaching children about Safety Awareness in fun, exciting  and imaginative ways.
I know from experience with my own children that preparing them for things that are coming makes it easier for them to cope with them. For example reading books on going to the dentist, and talking about it, combined with a fantastic dentist, made for a pretty good and easy appointment.
Using the same premise, the Hari's world series of books aim to help children identify and avoid dangers in a variety of situations.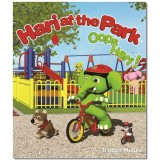 Currently there are four books in the series, but the author hopes to expand that to ten. At present the books are: Hari at Home, Hari at the Beach, Hari at the Park and Oops Hari, a more generic book on safety.
Hari is a bumbling young elephant who gets himself into all sorts of trouble with his friend Moe Mouse. The story is okay, but the good bit is that Hari s surrounded by hazards. The idea is that children aged 3 - 7 can point out the potential dangers, and discus with you why these things could be dangerous.
The books are beautifully illustrated, very nicely done, and detailed. They're kind of like photographs of a make-believe world. It's pretty good.
On some of the pages there are five little elephant badges. On those pages you need to find five potential safety risks. For example, in the picture below, we decided the risks are jumping into water when you don't know what's below, pushing someone into water, jellyfish, the jetski around swimmers, and Hari not having his swimming wings on (he has them in another picture).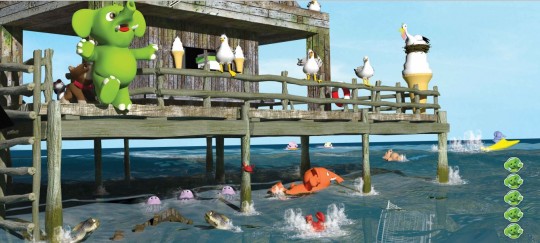 To be honest, in some of the pictures I couldn't even find all the potential dangers, so I couldn't blame my child for not seeing them, but I know I have a much more free-range, not quite into over the top 'health and safety' regulations style of parenting, so maybe I don't see everything as dangers. My daughter did manage to identify a lot of them though, especially in the park, and on the way to the park - in the scenarios she's more familiar with.
Hari's World is much more than just a set of books though. There's also an online members area where you can sign up for free to find the answers to what the dangers are if you can't find them.
Hari and Moe and their friends are really quite loveable characters, and they've branched out to bring the characters to life with soft toys, hand puppets and finger puppets of the main characters as well as Max the Dog, Sting the Wasp, Pinch the Crab and Peck the Seagull. They're lovely looking, and would be great for bringing the stories to life too.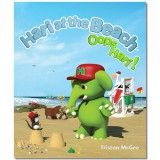 In Hari at the Beach, Hari gets up from his afternoon nap and has to rush to meet his friends at the beach but he cant find his bicycle helmet. Moe is trying to tell him where it is, but Hari just isn't listening.
In Hari at the Park, a familiar tune begins a chase which leads Hari, Moe and Max along the trim trail, skate park, playground and boating lake. Moe tries to warn Hari and Max about chasing 'Lick' the ice cream van, but they again, aren't listening.
When Sting the wasp flies into Hari's bedroom on a lazy Saturday morning, Max the Dog begins a chase which leads them all over the house and garden. Moe tries to warn Max about annoying Sting, but this time, it's Max that isn't paying attention to the warnings.
When Pinch the Crab is found in his little rock pool on a sunny day at the beach, Hari and Max the Dog begin a chase which leads them along the beach, the cliff bottom and the pier. Moe tries to warn them about annoying Pinch but they just aren't listening. When Hari and his friends go for a swim Pinch has other ideas.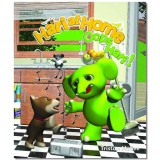 The Good
The books are colourful, bold, beautifully illustrated
They provide a unique and useful introduction to safety for children
They use familiar themes - the park, beach, home - so would be easy for children to relate to
The Bad
My only concern is that it could cause children to be overly nervous and very paranoid. That hasn't happened here, but I did think about it.
The Verdict
There's no harm in helping children be prepared and these books are fun. My three year old likes them, and she's had fun spotting the dangers. It has sunk in too, as she's chastised me for leaving a glass on the edge of the counter or the vacuum cleaner cable pulled tight. Hopefully it'll keep her safe one day when she needs it.