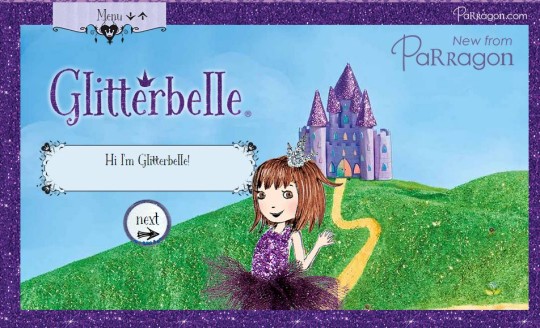 Well, I don't have to know anything about Glitterbelle to know that she's going to be popular when it comes to my two little girls. Glitter + Belle? It's a no brainer. As it turns out though, Glitterbelle is also a new princess, not from Disney, but from Paragon, and on the 15th of January, there'll be a free eBook to download in preparation for the release of the new picture book.
Glitterbelle is a princess who likes to climb trees, hang out with her friends and get busy in the palace kitchen. She has two friends, Angel the ballerina, and Dazzlina, a friendly witch, because it seems every story needs a witch these days. Along with Bob, the crown wearing pet dog, Glitterbelle tries to be a 'fairytale princess' which doesn't quite work out for her, and she instead learns to be a 'Glitterbelle princess'.
There are currently four books in the series, "Glitterbelle: The Sparkliest Princess Ever", "Glitterbelle: Me and You", "Glitterbelle: Doodle, Dazzle, Create", which comes with a sparkly tin box and finally, "Glitterbelle: Dress Up", which comes with over 400 stickers.
On the 15th of January though, you'll be able to download a read along version of Glitterbelle: The Sparkliest Princess Ever for free on iBooks, Nook, Google Play and Kobo - not Kindle, sadly.
I'm sure your little princess will love the pretty illustrations and funky modern princess.