The Flanimals Collection £5 @ The Book People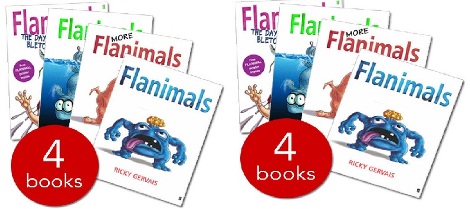 The Flanimals are these awesome creatures that were invented by none other than The Office's Ricky Gervais. With a writer like that you just know they are going to be hilarious and strange. The Book People have a collection of four books down to £5, which is far cheaper than anywhere else.
In the extraordinary kingdom of the Flanimals you will find a bunch of flying and crawling invertebrates known as the Blugs. These creatures will provide you and your kids with hilarious bed time reading fun as you watch them cavort across the pages with mad glee.
The Complete Natural History of the Flanimals is the title for this collection of books and it includes the books Flanimals, More Flanimals, Flanimals of the Deep, and Flanimals – The Day of the Bletchling.
I am actually very keen to read these books, I've only ever leafed through them at the bookshop, as the creatures are just mad. I love mad things. You save £24.99 off the original RRP with this lovely £5 price and if you use the voucher code BRINC25 you can get 10% off any order over £25.
Thanks to jezcooke at HUKD!