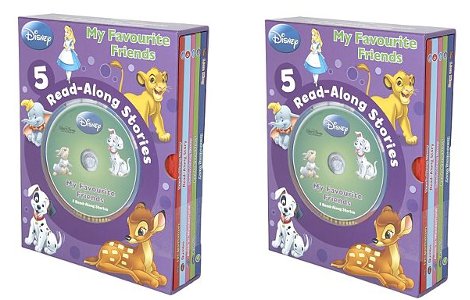 Debenhams have reduced the price of these Disney Read-Along Stories from £24.95, right the way down to £9.97.
You really can't go wrong with books or anything Disney if you're stuck for ideas for Christmas presents.
Combine the two and you're really on to a winner.
I loved getting books for Christmas as a kid - I used to play my new games first and then I'd settle down to read the books I'd been given.
There was just something wonderful about turning the pages of books I hadn't read before, and long after I'd got fed up with the games I'd still enjoy reading the books for the umpteenth time.
Five classic Disney stories make up this Disney Read-Along Stories book collection and they come in their own slip case, to keep them all neat and tidy in.
There is also a CD of the stories, so your child can listen to the stories whilst following along with the books.
My youngest used to like going to sleep listening to stories on his CD player - there were only so many times I was going to read the same book over and over again in one night, so CDs with stories on were a perfect solution for both of us.
Standard delivery with Debenhams is free, or you can arrange to collect your Disney Read-Along Stories from your local store for free.
Thanks to Dragon over at HUKD