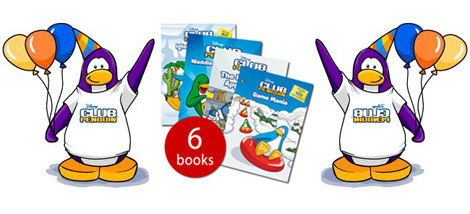 Books, glorious booooks! The Book People have a lovely little deal on six Disney's Club Penguin activity books.
Getting your kids to stick their noses into any kind of book, is a good thing...in my book hur hur.
I watched the 'Gareth Malone's Extraordinary School for Boys' three-part series on BBC2 a couple of weeks back, and was stunned at how badly some of these boys read; STUNNED!
Books were b o r i n g and reading was b o r i n g - WOW! I can't imagine going through life thinking that, I ADORE books.  My 16-year-old son is a serious reader and devours books at an alarming rate; my daughter and youngest are the same.
So what to do, if your child is anti-books?
Activity books, like these Club Penguin ones, could be the way to go. They're fun, they're engaging and, importantly, they look 'friendly'.
In this particular collection there is a joke book, two sticker activity books to light the creative spark and three 'pick your path' story books.
Pick your path books are GREAT - you choose what happens at various stages of the story and your choices will dictate the ending; I loved these when I was small.
The Club Penguin activity books collection has an rrp of 29.94, The Book People, however, are letting them go for £6.99. Use code ZD533 at the checkout and you'll qualify for free delivery too.
Thanks to Rhys135 over at HUKD!