Chuggington Book Collection £4.99 @ Red House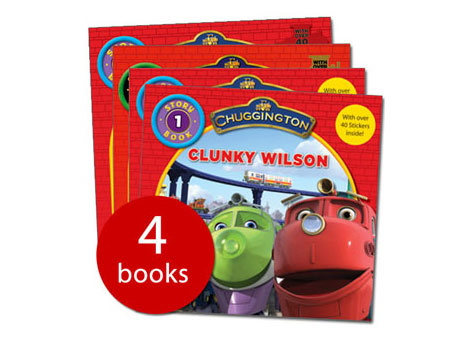 Red House are selling this four book Chuggington Book Collection for £4.99 instead of the £15.96 list price.
Books make great gifts; long after toys have been played with and got bored with, books are still being enjoyed at bedtime.
All of my family fell in love with Chuggington when it first hit the TV screens – my youngest gave everyone character names: he was Wilson, my eldest was Brewster and my daughter was KoKo, it really was far too cute actually.
If you're not familiar with Chuggington, here's a quick lesson in all things Chuggington.
Wilson, Brewster and KoKo are trainee locomotive engines (Chuggers) who live in the town of Chuggington and they get up to all sorts of mischief and adventures, whilst learning important life lessons along the way (of course!).
Wilson is the youngest and can be a bit over-enthusiastic sometimes, Brewster is the sensible one and KoKo is outgoing and daring.
I really love the idea of including books in party bags; at just over £1 a book a few sets of this Chuggington Book collection would make for inexpensive additions to the traditional piece of birthday cake and balloon.
They'd also be great for standbys in the emergency pressie drawer.
Delivery is free if you find a few more things you like and spend over £15, otherwise you'll pay a single item delivery free of £1.95.
Happy reading!