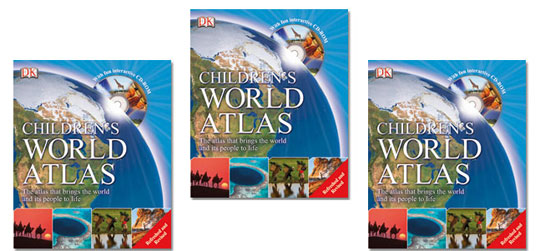 If you're looking for an atlas suitable for kids (full-blown adult atlases can be a bit much to deal with when you're small) then I suggest you take a look at this Children's World Atlas on sale at Red House Books.
Its usual price is £12.99, you can pick one up from Red House for £6.49; I have a free delivery code for you too - it's R3DFR33.
My youngest is having to get his head around geography; a book very similar to this Children's World Atlas has helped him enormously.  If you've been a PlayPennies reader for a long time then you'll know that I bounce backwards and forwards between the UK and South Africa quite often - it's far easier to explain, to Edward, where I'm going by showing him the relevant atlas pages.
My mum and dad live in Italy and when Edward and his dad went over to stay with them last October, our version of the Children's World Atlas came in handy again.
I have cousins that live in Spain and Finland, a friend in Norway (who has a son born in the same month as Edward) along with friends in Dubai, Japan, Australia and the United States - with this many friends and family scattered all across the globe, referring to a Children's World Atlas makes seeing where everyone is in relation to each other much easier to grasp and opens up a whole host of learning opportunities too.
I've always been a fan of reference books and still prefer to look at places, with kids, in books like this Children's World Atlas, rather than online with Google Maps - I feel we need to keep books 'alive' before they fall out of favour and print forever!
Which would/do you prefer to look at with your child - a Children's World Atlas book or Google Maps on the computer?
Happy atlas page-turning!