OK...so the kids should be tucked up in bed now.  If yours are of primary school age then hopefully they came rushing out of school frantically waving World Book Day information at you - if not, go and check their book bags...
Today is the 13th World Book Day and is a celebration of books and reading and all things literary, and those lovely people who organised it all are giving 13 million primary school children across the UK and Ireland a £1 WBD token that can be redeemed in participating bookstores or supermarkets (they cannot be redeemed online).
WAIT!! WAIT!!!! Before you run away because your children are either side of the primary school years, they can still benefit from the special World Book Day books that have been published to mark the event.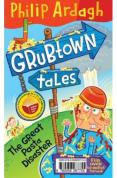 There are numerous titles available but I'm really taken with the five special flip books, each costing £1, and are two stories in one book - read one and then FLIP the book over to read the other!  I particularly love the title 'Grubtown Tales: The Great Pasta Disaster/Pongwiffy And The Important Announcement' written by Kaye Umansky and Philip Aaragh.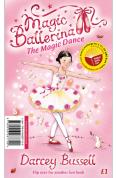 Other WBD titles  include a Magic Ballerina story by Darcy Bussell and Dan Freedman's football bonkers hero Jamie Johnson; there's a new Thomas the Tank Engine story too (hurrah!).  The special publications suit a range of ages, from pre-schoolers up ti 11+ so there really is something for every child.
Now I've linked to Play.com for these book titles but they are available at other places like good old Amazon.com and also in selected bookshops on the highstreet.
So whether you have a book token or not, whether you are popping in to town anytime soon or not, whether you prefer shopping online or not, there really are no excuses for grabbing hold of these superb £1 World Book Day books (click HERE to see the full list of them) and celebrating everything READING!
We love books here at PlayPennies so we'll be promoting reading and the World Book Day ideals for a little while longer yet - we think it should be World Book Day EVERY day!