"That's Not My" Books £2.49 @ Amazon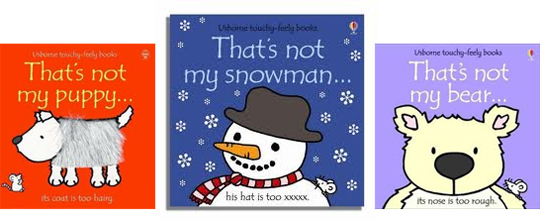 The fantastic "That's Not My" book range is reduced from the RRP of £5.99 to £2.49 – a 58% saving – at the moment. They've been reduced for a few days already, so I'm not sure how long it will last.
If you've never seen these books, you might not get the fuss, but let me tell you, the children love them. They're fantastic for teaching sensory things like bumpy, soft, and shiny (and a host of others) and are simple enough that toddlers can navigate their way through them on their own too, once they've been read a few times.  They make fab bedtime stories too, when you really don't feel like reading a lot. They take about 1 minute to read, so you can stretch it out to talk about all the elements of the page and make up stories to fit the time you have to spend.  Brilliant.
Here are just a few of the available titles:
That's not my Kitten
That's not my Monkey
That's not my Puppy
That's not my Fairy
That's not my Teddy
That's not my Penguin
That's not my Snowman
That's not my Santa
That's not my Robot
That's not my Train
That's not my Princess
That's not my Bear
Thanks to lifes2complicated @ HUKD