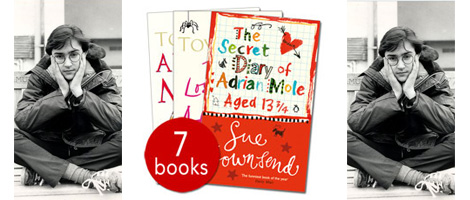 I was transported back 25 years as soon as I came across this deal for the Adrian Mole Book Collection!
I loved reading the Secret Diary of Adrian Mole aged 13 and 3/4 - the  3/4 bit was so spot on, it's the most important part of that age you know!
I haven't read it in a very VERY long time, and don't own copies of it any more either, but I can't help wondering how much of its subtle humour was lost on me at the time?
Oh don't get me wrong, I found it funny back in the day but with teenagers of my own now, I'm rather curious to see if it would be funny from this side of the teenage fence.
Hmmm...I think I've just talked myself into taking advantage of the deal The Book People have on the seven books that make up this Adrian Mole book collection!
The titles are:
The Secret Diary of Adrian Mole Aged 13 3/4
The Growing Pains of Adrian Mole
True Confessions of Adrian Albert Mole
Adrian Mole The Wilderness Years
The Cappuccino Years
The Lost Diaries of Adrian Mole
Adrian Mole and the Weapons of Mass Destruction
The Adrian Mole Collection has an rrp of £55.93 but is up for grabs for £7.99 and if you bung this code in to your basket too - OCTWEL - then you'll get delivery thrown in for free too.
Thanks to andywedge over at HUKD!