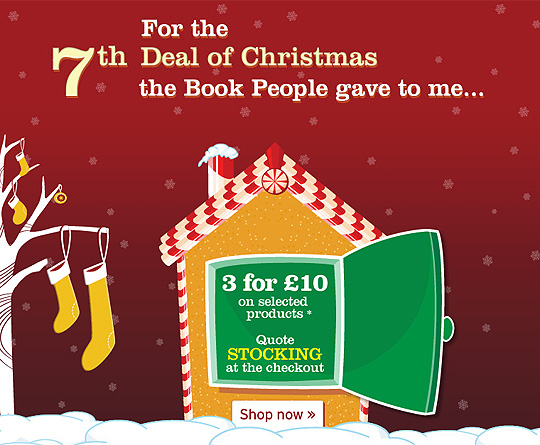 If you like books, or like giving books, then you should head over to The Book People today and browse through the books they've selected for their 3 for £10 offer.
I love wandering around the virtual shelves of The Book People, but I DO wish they'd organise their offer books into categories too - of course, I know why they don't, it's to capture those 'oooh, that looks interesting too, I'll think I'll just add it to my basket' impulse buys.
But it also means I've had to scroll through 191 books to see if there's anything worth telling you about - and there are a few.
There are various biographies - the Roald Dahl one looks interesting (that'll be one of those impulse buy snares right there!) and then there are various cooking books.  I rather like the look of the '4 Ingredients' books - there are a pair: 4 Ingredients I and 4 Ingredients II, there's also 4 Ingredients Christmas too (that'll be turkey, spuds, carrots and sprouts then!).
There are some kids' books too - Chuggington Read Along Books, with a CD; Winnie the Witch, a three-book Monster Swap Collection and I think 'How to Make a Universe With 92 Ingredients' will be well worth taking a look at - the official blurb says:
A unique and imaginative take on chemistry that will help children to take a genuine interest in science, How to Make a Universe With 92 Ingredients is a fascinating hardback filled with simple experiments to try at home. Making the periodic table fun and topical, Adrian Dingle's fantastically child-friendly guide is packed with colourful illustrations and reveals how all things are made from just 92 elements - from trees to mobile phones and from humans to the sun.
This is an 'advent calendar' offer so, you'll need to enter STOCKING into the discount/promotions code box before you checkout to drop your total order cost to £10.
Happy choosing three books (or book sets) for £10!