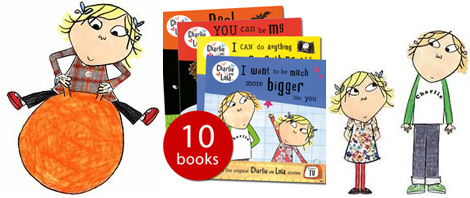 I do love a good book deal AND I'm rather fond of Charlie and Lola - so this 10 Charlie and Lola books in a rucksack deal from The Book People is rather appealing.
Charlie and Lola have been such a HUGE hit that a) I wonder if it's wrong to feel jealous of Lauren Child who created them and b) whether there has been an explosion of little girls being named Lola...?
They really are the perfect brother-sister pair; Charlie is older, patient and wise, Lola is hilarious, impatient and younger.  She asks some brilliant questions and good old Charlie tries his best to answer them.
I'm trying to think whether we've ever met Charlie and Lola's parents - I don't think we have, they're just sort of 'implied'.
These 10 Charlie and Lola books come in a little rucksack that your child will love, and also make them very easy to take out and about with you for reading on the go.
At a quid each, you could always buy them to split up and put into party bags if you're throwing a birthday party any time soon, OR they'd make a lovely birthday gift for someone else's little Charlie and Lola fan.
They should retail for £49.90 but are yours for £9.99; use this code when you check out - ZD533 - and you'll bag free delivery too.
Thanks to RosieWoo over at HUKD!