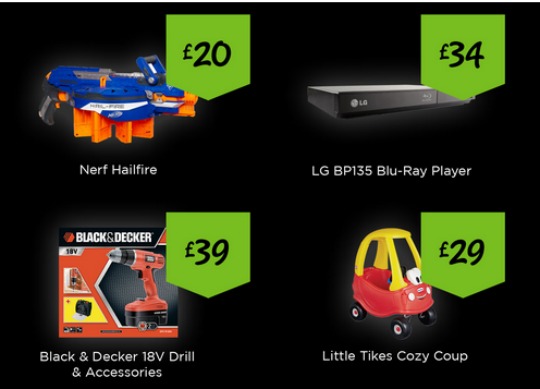 If you feel brave enough to attempt to join the queues tomorrow morning for the second day Asda's 2 Day Black Friday event, then there are again some bargains to be picked up in store.
I suspect there will a lot of people hoping to grab one of the £89 Tv's and the cheap tablets as there are some great technology deals. In Toys Asda have the Crazy Coupe for £29, and Nerf Hailfire for £20.
Here's the list Asda have given so far:
Polaroid 32" TV - £89
Archos 70 7" Tablet - £29
XBox One Console, Call Of Duty Advanced Warfare, Sunset Overdrive, & XBox Live Gold 3 Month Membership - £329
Skylanders Trap Team Starter Pack for XBox One - £29
Zoostorm 7.5" Windows 8 Tablet - £69
Little Tikes Crazy Coupe £29
Nerf Hailfire £20
Black & Decker 18V Drill & Accesories - £39
LG BP135 Blu Ray Player - £34
Again the Black Friday webpage at Asda promises lots of other deals on the day, and includes a list of participating stores. If you don't fancy joining the crowds tomorrow then join us here instead (I changed my mind about being outside Asda at 8am on a Saturday).