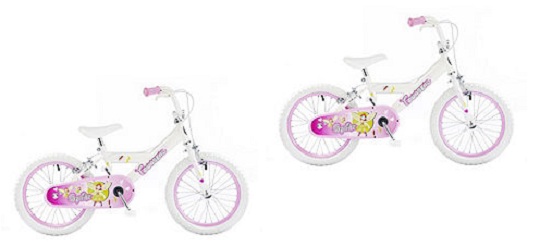 If you've been looking for a cute girls' bike for your little girl then go have a look at this one from Sainsburys. The Townsend Sprite 16" Rigid Girls' Bike has been reduced from £104.99 to £78.74 saving you a lovely £26.25.
Getting your kids their first real bike is a momentous occasion and a really happy one for the kids. If your little girl has got past the stage of baby wheels and it's time for the real deal then Sainsburys have got a pretty cool bike offer for you. The Townsend Sprite 16" Rigid Girls' Bike features a cute and happy sprite design on it; it's the perfect bike for little princesses and fairies.
The bike has a durable steel frame with lightweight alloy rims. The strong V-type front and rear brakes, children's short reach adjustable brake levers and sure-grip tyres make sure those little girls can stop safely and ride safely. It is suitable for an inside leg range of 17-21" or 43-53cm.