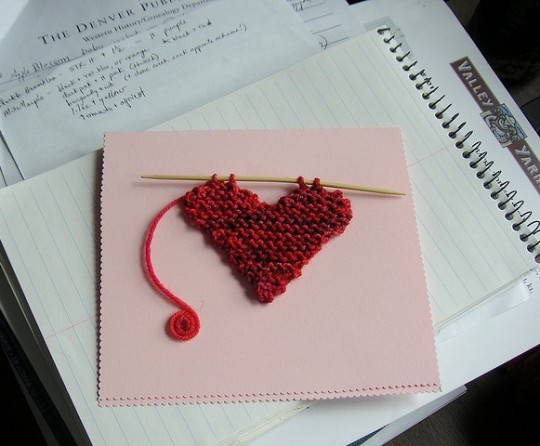 We're just a few weeks away from Valentine's Day. In some countries, and by some I mean the United States, this is a huge event. Children really get into it too, with whole classes making Valentine's Day cards.
This is really a cultural thing, as they can't make a big fuss of any holidays that are religious (as they have to keep state and religion separate in schools there). So I guess that for them it is more like how we tend to give whole class Christmas cards here.
As a result of this, and the fact that there's so many amazingly talented people out there on the internet, there's quite a few easy to make ideas for your own Valentine's Day Cards.
When it can cost three or four or even more for a card from WH Smiths, it makes a lot of sense to go for your own creation. Plus there's always something more romantic about a card you've spent time on. Mind you some are only easy if you already know how to do things like knit, as with the knitable Valentine's Card pictured above. The pattern for this can be found at the Ravelry.com website. Interested? Read on to find out more.
Glowstick cards
I just love this idea. Using glowsticks as the basis of the card. If you google Glowstick Valentine's Cards you'll find lots of ideas for using it. I really liked the Star Wars themed ones. However, this particular idea from The Three Girlies blog, and I love it for the simplicity. It uses a glowstick like cupid's arrow through a heart, and they've added a little heart chocolate too as a treat.
Lollipop Stick Card
Glue guns at the ready! I absolutely love this idea. Partly because I have a stack of lollipop sticks and no real idea what to do with them, and also because I've got quite a few old jigsaws around with missing pieces. I wanted to recycle them some how but had no idea how. This idea comes from The Active Toddler blog.
What I like the most is how adaptable this is. It could work for many different occasions. Birthdays, Father's/Mother's day, even Christmas.
Lovebug Card
The other card pictured above is just so sweet. It is the Lovebug Card, and I found it on Spoonful.com. It is just the sort of sweet, soppy thing I love, and I know my husband would love it too. The caterpillar is made using a carrot stamp, and that also makes it a great craft for kids. What youngster doesn't like making inky shapes using vegetables. I know I did!
Easy Popup Heart Card
Have your heart pop out at your Valentine when they open their card. A simple but classic idea and one I think even I might be able to do. The idea can be found on Alphamom blog. There's also a link to a video of a tutorial on how to do the pop up bit.
Felt Hearts Card
I picked up some pieces of felt in a craft shop sale, and haven't really known what to do with it. Loved this idea for using on cards from Style At Home - I'd never have thought of it. Stuck at the weekend with the need to make a nice birthday card in a rush, I adapted this idea. I used a pair of scissors from my son's set, which had a crinkly edge to them, and cut out one large heart. I didn't have any card left, but did have some foam sheets.
So I cut out a portion of one of those, stuck the heart on the front with a bit of ribbon (for years I have kept an ice cream container in the cupboard where I put all the bits of ribbon you get on things like flowers, cakes etc. You've no idea how handy this has been) just using PVA glue. It looked lovely, and rather posh actually. I was impressed!