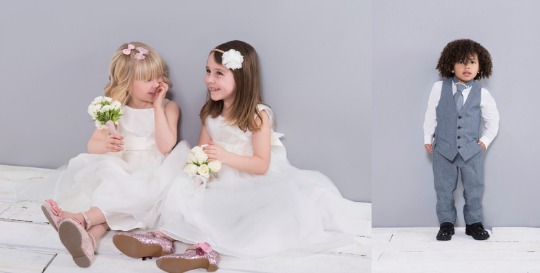 If you've any special events coming up soon, you will want to know about the new range of occasion wear for kids from George at Asda.
It can be expensive to kit out a whole family for a special day out and while us parents may be able to get away with last year's outfit that doesn't really work for kids. Debenhams, BHS and Next all have lovely kid's clothes but when it comes to price George is hard to beat, so these new collections are definitely worth checking out whether it's for a wedding, party or any special event.
So what's available and how do the price compare? There's a wide choice of outfits available, including shoes and even bags and it's available for kid's aged 9 months right up to 12 years. But, and this is where it gets good, those prices? This Shirt, Tie and Waistcoat Set* for example starts at only £14. Such good value. If you're not after something quite that fancy, shirts start from only £4. £4?! At that price you're not going to care if it does only get worn a handful of times or gets covered in chocolate.
For the girls this Floral Formal Dress* starts from £12 and shoes start from £5. I don't know about you but shoes are one of my "things". While I have no problem forking out for decent school shoes, I have a real problem paying £30 plus for a pair of fancy shoes my daughter will wear once!
This new range is selling out very quickly online when it comes into stock and with prices like this I'm not surprised. If you see something you like grab it now!
Don't forget to check out the BIG 10,000 item sale that's kicked off today too here* George at Asda have it all going on at the minute!