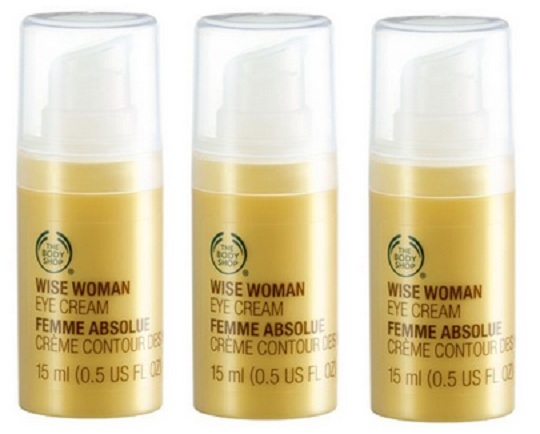 The Body Shop are offering their best loved little treats at tiny prices! Get up to 50% off selected skincare, make-up, fragrance, face, body and hand cream today. They also offer free delivery on orders over £20 so pop onto their site for deals like this Wise Woman Eye Cream for just £12 – your skin will thank you!
Body Shop's Wise Woman Eye Cream is (in my mind) one of the best specialist eye creams on the market. It's easy to apply, absorbs quickly and leaves my skin very soft and hydrated. I use it twice a day every day. Since my kids arrived my laugh lines have tripled so I need that extra hydration boost around my delicate eye area. As we've all been told the skin around the eye area is one of the thinnest on your body so anything to help reduce the appearance of lines is a Godsend!
The Wise Woman Eye Cream contains a unique blend of red clover, wild yam and starflower oil. Other products in the Wise Woman range include a Day Cream, Night Cream and Vitality Serum. So be wise and order online today!