Family Freebie: Free Can Of Spam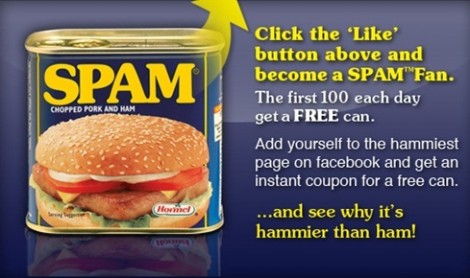 The morning I am having has put me in a bit of a foul mood. Everything has taken twice as long as it should and driven me slightly insane. So I am so pleased I found this freebie because it made me laugh and laugh, it cheered me up no end. A free can of spam. Hilairous.
The premise is simple. To get your free can of Spam all you need to do is be one of the first 100 people to LIKE their Facebook page each day. If you make it into the top 100, then you'll be sent your free can and you can happily enjoy your spam.
It's amazing the reactions that this product gets. You either love it or hate it, a bit like Marmite, and I am one of those who falls into the love it camp. I find the taste utterly unique and fun. I mean, this is ham and pork mixed together into a very odd product.
Go on, be one of the first 100 to Like their Facebook page and get your free can O Spam.
Thanks to littleprincessnicky at HUKD!