Dettol No-Touch Hand Wash System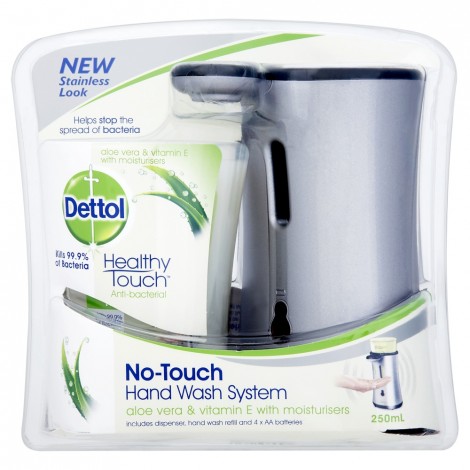 Ok, so I utterly and completely adore anything that does something automatically. A restaurant that has automatic menus sliding out of the table? Yes, please. A hand wash that automatically dispenses the right amount onto your hand? Definitely!
I got the Dettol No-Touch Hand Wash system a few weeks ago and it came with the automatic dispenser and a bottle of the lovely smelling hand wash. Setting it up was easier than whisking an egg. You open the box, pull out the battery control slip, reset the battery compartment, slot in the hand wash, and turn it on. That's it.
Just don't do what I did and hold your hand under the sensor while turning it on. Yes, I know the instructions specifically tell you not to…
The PR blurb that comes with the system is that it encourages kids to wash their hands more often. I was sceptical but I also happened to be in possession of a child that has to be constantly chivvied into washing her hands. It's a pain.
So, I set up the system at lunch time and proceeded to spend the next few hours bouncing up and down with excitement for when I collected her from school. Could this lovely automatic machine make my child excited about hand washing?
The answer is…
YES!
When she came home we read the instructions together (wet hands, hold under sensor, wash, rinse, go) and she proceeded to do it three times. Now, if I forget to wet my hands before putting them under the Dettol No-Touch, she lectures me.
While she still forgets to wash her hands from time to time, I have to admit that the automatic dispenser, along with its funky noises and scrummy smelling soap, has made her more conscientious. And I honestly can't fault the price either – a lovely £6.65 on Amazon!