Rose And Rebellion Baby Carrier Review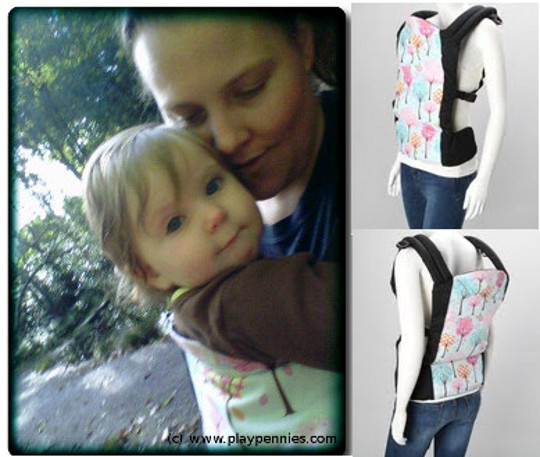 I've added a new baby carrier to my collection, and with the Rose and Rebellion, I now own more baby slings than shoes! I can't help myself though. They're so gorgeous!
Rose and Rebellion is a Welsh-made baby carrier, suitable for use from 3 months to 4 years or 20kg. It uses a patent stitching in its manufacture, which means it uses a minimal amount of material, but offers a great deal of strength.
Babies can be carried on your front or your back in the R&R, but as there is concern about pressure on the hips and spine for babies in forward facing front carry baby carriers, they do not recommend that position at all. Instead, the waistband is a fully integrated three part band that provides comfort, security and most importantly lumbar support, spreading the child's weight across your body rather than just your back and shoulders. The shoulders have a padded 1 inch strap for comfort, so you don't have it digging into your flesh, which is grand. There's also a hood for additional head support for babies or for comfort when sleeping. This clips onto the shoulder strap easy and is quick and simple to do one handed too. The hood folds away into a hidden pouch inside. The buckles and carrier have been tested to all the necessary safety standards.
In my Rose and Rebellion, my baby is held close to my body, firmly and safely. Because there's little space between us, there's no pressure on my back, and I can carry her like that for hours. It's also really easy to get my now 7 month old on and off my back on my own without help or fear of her falling - a back carry takes practice, but that's true regardless of your carrier. On my back I can carry her all day if I have to, although she still comes off for feeding and changing and so on, obviously!
The straps around the waist and shoulders are adaptable and will fit up to a 50 inch waist. It weighs only 450g and folds up pretty small.
Rose & Rebellion baby carriers come in a range or designs to fit any taste, I'd imagine. Occasionally there are 'exclusive' designs - ours is actually a Zulily exclusive - and they also have a 'custom' option if you want to personalise entirely.
The Rose and Rebellion baby carrier comes with instructions, but it's pretty simple and if you need them, they can be found online. Ranging from £79.00 - £115, they cost more than your mainstream alternative, but it will last you so much longer, you and baby will be so much more comfortable, and like us, you may decide you don't even need a pushchair or stroller.
P.S. These are currently available at Zulily for £58