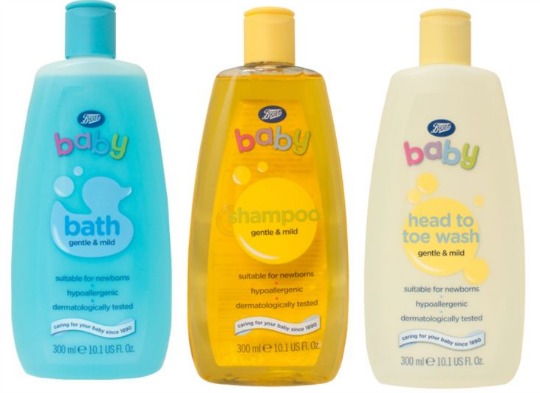 Baby products don't have to be a brand name to be good. I have used Boots' own brand baby products on all three of my little boys. My youngest had particularly sensitive skin and actually got on fine with it. Fancy trying some out for next to nothing? Here's your chance... Boots are running 3 for 2 on most baby items just now and toiletries are included. Buy three of those and obviously you will only pay for two, use promo code PC14ACP50 and it should just give you 50 Advantage Card Points but it gives you 50 PER ITEM! Meaning that if you buy say three shampoos, you will pay for two and accrue points to the value of £1.50!
This is the good bit, the 300ml bottles of the Shampoo*, Baby Bath* and Head to Toe Wash* are £1 each. Meaning you will pay only £2 once the 3 for 2 promo kicks in plus you will get £1.50 worth of points back on your card. So. technically you are paying 50p for ALL THREE!
Note that it doesn't work on the Talc! And as far as we know it works no matter how many you buy, obviously in groups of three.
You can collect your Baby Toiletries order for FREE from your local Boots store or pay £3.50 for home delivery.
Thanks to ellie27 @ HUKD