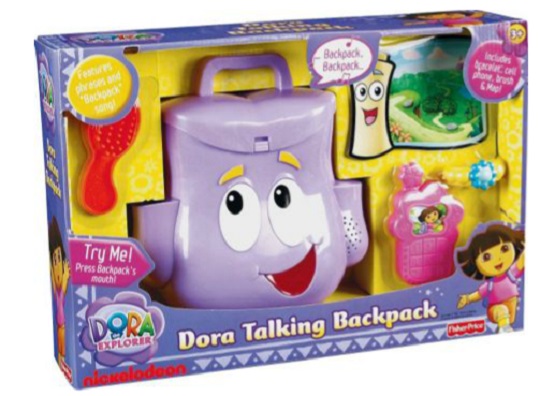 Save 25% or £5.00 on the super cool Dora the Explorer Talking Backpack Toy from Argos. Help Dora complete her missions and have wild adventures for just £14.99. The Backpack was £19.99 before Argos put it on sale.
Have hours of fun with Dora the Explorer's purple Backpack. The backpack is Dora's trusty companion that helps her complete her quests and missions and keeps her company wherever she goes. When you press the Backpack's mouth he sings the Backpack song and says other cool phrases.
The Backpack comes with a phone, a comb, a star compact spinner with adventure Dora of the day, glasses, a bracelet and a map that all store neatly inside the Backpack. He's 28 x 41 x 10cm, weighs 810g and is suitable for kids over the age of three years old. The three AA batteries required for Backpack to sing and talk are included with the toy.
There are hours of adventures and fun to be had with Dora the Explorer's Backpack!