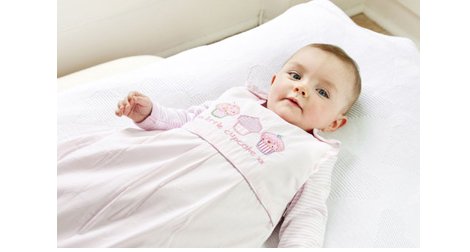 If you pop over to JoJo Maman Bebe, you'll be able to pick up this rather cute Cupcake 2.5tog baby sleeping bag for £9 instead of £26.
Whoever designed/invented/came up with the first scribblings of a baby sleeping bag should be knighted for services to parents and babies, as far as I'm concerned.
If I was asked to compile a top 10 list of baby essentials, the baby sleeping bag would be on it!
My eldest son slept still as a statue; great on the one hand as he was born in November and didn't kick the sheets off (there were no baby sleeping bags back in 1994), sc ary on the other, sometimes, as you could go in in the morning and he appeared not to have moved!
My daughter, born exactly a year later, was a notorious fidget!
She routinely kicked the covers, and later the duvet, off (in fact, she still does) and I was up and down, up and down every minute, it felt, to tuck her back in because she'd got cold.
When my youngest was born in 2006, I wasn't taking any chances!
Armed with baby sleeping bags we headed into winter and, OH JOY! OH RAPTURE! We hailed the success and warmness of him all tucked up that bag - they are properly awesome things.
However, at full price, they're not the cheapest purchases you'll ever make so it's always a good idea to hunt around for baby sleeping bag deals...like this one.
The Cupcake baby sleeping bag is in neutral colours (ideal if you're buying for a baby of, as yet, unknown gender), has a 2.5tog rating - so it can be used all-year round, except for hot summer - and features a little embroidered cupcake design on the chest.
It zips up around the bottom and one side - I prefer this to just poppers or a zip along the bottom edge only) and can be machine washed and tumble dried.
It's available in ages 0-6 months and 6-18 months.
The published price on the website is £10; to bring that down to £9 just enter code - MM82 - at the checkout and delivery is also included in that price.
Thanks to andywedge at HUKD