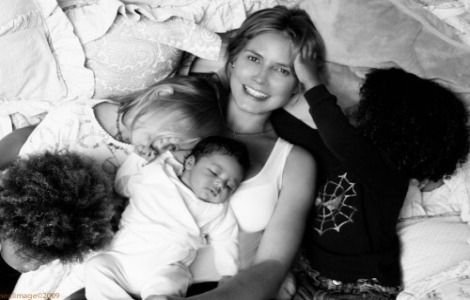 I can't be the only person on the planet to admit to an irrational fascination with the shoe collection of Suri Cruise. After all, the papers print pictures of her impressive array of footwear on an almost daily basis, so I'm surely not alone. I don't know why I care about what the 3 year old daughter of a Hollywood super-couple wears but apparently I do. There, I've confessed. But... even as I check out the latest pair of teeny heels to adorn her tootsies, I can't help feeling there's something  a bit wrong about the fact that a kid's wardrobe choices should be the subject of so much tabloid fodder. And I can't begin to imagine the pressure that comes for a Mum who knows her child's every item of clothing is going to be analysed by newspapers the world over. I've taken my two-year-old on the school run while he was dressed head to toe as Spiderman, complete with full head mask so I dread to think what the paparazzi would make of that, were we famous.
Which is why I think it's so cool that celeb parents like supermodel Heidi Klum and rockstar husband Seal have taken to posting family snaps on their website. Heidi's pictured here with their newest addition, a baby girl called Lou, and the rest of their kiddie crew, Lennie, Johan and Henry.
They're not the only celebs to strike a pose in public, either. Nicole Richie and her partner Joel Madden posted this cute snap of themselves with daughter Harlow, 2, and their new baby son, Sparrow, on Nicole's website.
I love the fact that they're sharing their family album with the world. This way, we still get to indulge our fascination with the family lives of the rich and famous but it doesn't feel like the intrusion of a paparazzi shot splashed in a tabloid. There's also something really refreshing about celeb mums who  can't help showing off their cute new additions, instead of shrouding them in secrecy and selling pics to the highest bidder only. It also rocks to see celeb mums looking dressed down and relaxed with their brood and makes them seem, well, just a bit more like normal mums, beneath all that glitz and glamour.