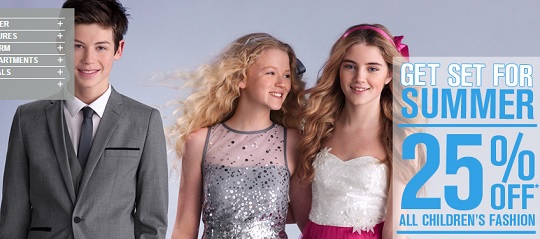 This is a nifty deal if you happen to have been caught unawares by actual sunshine. BHS are selling children's fashion at a lovely discount of 25% off. That is a fantastic saving if you need to stock up on clothes for all ages and requirements.
The range on offer includes the holiday shop, Millie, baby & toddler, children's shoes and their fashion wear. You will also fine gorgeous outfits for older girls and boys in the occasion wear department.
This is a great way to stock up on essentials that will last you for several seasons, not just the brief and temperamental summer we have at the moment. You can grab awesome dresses for girls, and suits for boys in the evening section and they look utterly stunning.
We got things like shoes and shirts and vests in the sale because they are the ones that always seem to be grown out of the fastest.