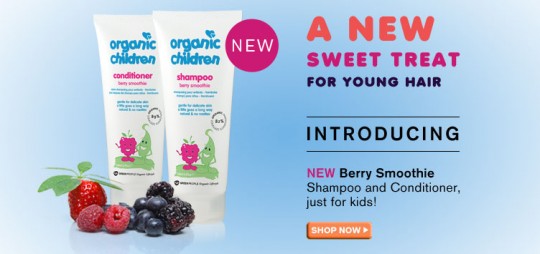 Organic bodycare company Green People * sent us two of their newly launched children's haircare products to review.
We received the Berry Smoothie shampoo and the Berry Smoothie conditioner.
First let's get all the product info out of the way and then I can tell you what we thought of this shampoo and conditioner.
Each item costs £8.50 and is available to buy direct from Green People. Both products are organic and made entirely without SLS/SLES, Parabens, methylisothiazolinone, phthalates or artificial fragrances.
The Berry Smoothie shampoo and conditioner are made with aloe vera to nourish skin, and are suitable for children who may be prone to eczema or psoriasis. They contain fairly traded ingredients as well as 82% certified organic ingredients, and are 100% certified products.
Both products are suitable for vegetarians and vegans, and Green People's packaging is recyclable and non air-freighted.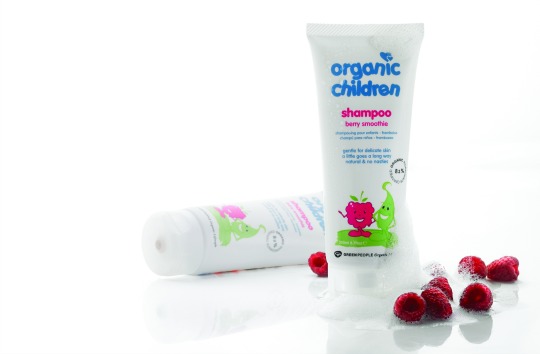 And now for our verdict... first let me say that I don't know many people who routinely buy organic skincare products for their kids. I reckon most of us would opt for the organic options if we could afford to but there's no denying that they're pricier than non-organic products, and so often these days what ends up in the grocery basket is determined by its price tag.
So at £8.50 a bottle I've got to admit that I would think twice about regularly buying this shampoo and conditioner. Faced with the option of parting with £17 or just a few quid for whatever's on offer in the kids haircare aisle of the supermarket, I'd probably go with the latter.
BUT... once you actually begin using these products you start to see that they might actually be worth those extra pounds. Firstly they smell amazing - the fruity raspberry, apple and vanilla scent is truly delicious, and actually made my children ASK to have their hair washed. That's definitely the first time that has ever happened!
The shampoo feels light and silky and creates a good lather so it's easy for my kids to use by themselves with minimal supervision - always a bonus when it comes to hair washing! It's also easy to rinse out, unlike some popular brands which seem to take a couple of good rinses to get rid of. I really notice that my children's hair was much lighter after using this shampoo than when using other supermarket / popular brands which seem to leave a sort of residue in the hair. And there's nothing chemical-y left behind with this shampoo - my children's heads smelt like amazing fruit smoothies rather than anything too soapy, and it was tempting to bury my face in their heads at bedtime which, naturally, they found hilarious.
The conditioner smells similarly divine and leaves hair looking shiny and feeling soft and silky, without any of the residue or dullness that other conditioners sometimes leave in children's hair. It's not too thick or gloopy but is easy to comb through hair, and leaves a gorgeous smell.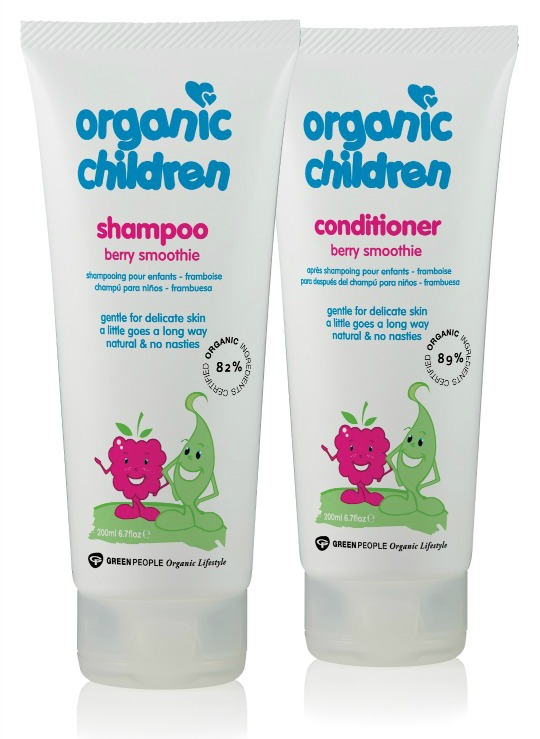 Best of all, a little of the Berry Smoothie shampoo and conditioner seems to go a very long way. We've had these products for at least a month and seem to have barely used them, despite washing two little heads 1-2 times a week.
I'd definitely recommend the Green People Berry Smoothie shampoo and conditioner and must admit to being a convert - I'll be thinking twice before reaching for the cheap supermarket brand alternatives. Sometimes the saying 'you get what you pay for' seems to be completely and utterly true.
Green People offer free UK mainland delivery if you spend £50 or more, and you can earn green points with every order.
Pros As it says on the packaging - gentle for delicate skin, natural and no nasties, and a little goes a long way.
Cons Certainly not cheap or particularly affordable
Overall verdict A good investment both in 'green' terms and given how these products last and perform compared to cheaper alternatives.