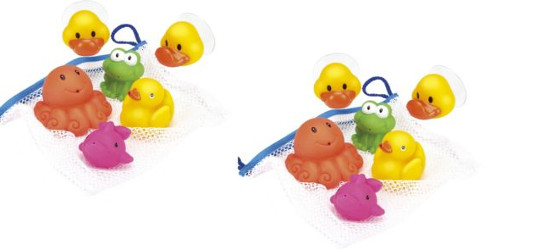 Sainsbury's have a toy sale on at the moment, running until 16 July. One of the items in the sale is a bath toy set - the Grow and Play Bath Squirter Family - for £3.32 instead of £4.99.
To be honest, the only reason I'd even consider buying these bath toys is because they're cheap. The problem with most bath toys is that they have a hole in, and so let water in. A few weeks of use and you'll find them full of mold and pop them straight in the bin. The squirters are the biggest purveyors of the green goop. Yum. At least with these, they're cheap so you're not worried that you're throwing away good money.
Of course, if you keep them out the bath they'll last forever.
This Bath Squirter Family consists of 4 squirters, 2 suction cups & 1 net bag, and should make at least a few bath times good fun.