Ways To Earn Cash And Vouchers Through Survey Sites & Mystery Shopping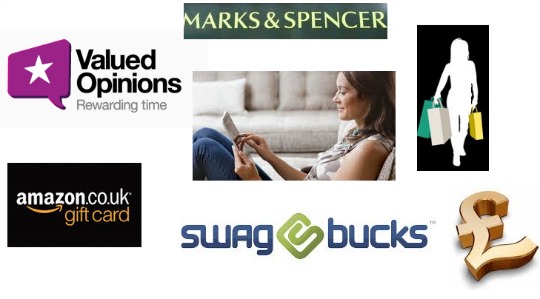 Whether you have a job, be it full time, part time or you stay at home with the kids, extra money or gift vouchers are always welcome. I stayed at home when my daughter was younger and used these sites, well basically for treats for our family.
The first question people ask is "How much can I make?" closely followed by "How much work is involved?" and unfortunately there's no hard and fast, no easy answer. Many of my friends use these and similar sites and depending on the work you're offered (I'll explain that in more detail later) and the hours you put in, the rewards can vary hugely. Some people I know use it for family days out, some for ice creams on a family day out and some to pay for Christmas presents for the kids. So yeah, it varies hugely.
So survey sites, which ones are worth joining? There are hundreds on the net but these are all ones I've used personally or know someone that has.
i-Say (Formerly Ipsos) is a good place to start. They'll email you surveys and you can build up you points to exchange them for high street vouchers and eGift cards for the likes of Amazon.
Swagbucks. Swagbucks is slightly different in that you earn "bucks" for taking polls, playing games and watching videos. They pay out in cash or git cards.
GiftHulk. GiftHulk is a lot like Swagbucks, it has the same idea and the rewards are similar too.
Valued Opinions. Valued Opinions has been around a long time and you'll be emailed surverys, your eligibility will be decided and for every one you complete, you'll be able to build up points to exchange for vouchers (such as M&S and Amazon)
Pinecone is regarded by many as the best survery site to join but unfortunately it's by invitation only. Know someone that's a member? Ask them to let you know the next time the sign up link becomes live. Otherwise it's just looking for banners on websites that they're looking for new recruits or word of mouth (so keep an eye on this blog!)
There are a few things to bear in mind if you sign up to any of these sites that can help and make things easier. Firstly, use a separate email for your surveys but make sure it's one that you check often. Valued Opinions for example will send out surveys to a load of people but when they have enough replies, you'll simply get a "closed" when you click the link. Also fill in your profile as much as you possibly can. You'll receive more invites and have a wider appeal to the companies.
Mystery Shopping.
Mystery shopping is another way to earn extra cash for your family.
I use Grass Roots and it's ideal for beginners. Here you apply to join and once accepted, fill out your profile, where you can work, hours you can work etc, and again they will send a bulk email regarding new assignments for everyone in that area, so you need to move quickly. One you accept the assignment you'll be emailed instructions and you fill in the results online too. They pay in cash and the amount of assignments you are offered will vary hugely by your postcode. Typically you'll receive a fee for carrying out the work and be reimbursed for any expenses you have. This will all be clearly outlined in the brief.
ABAi is another site you can register to carry out mystery shopping. I'd say this is a "step up" from Grass Roots in that the application process is slightly longer and is just a little more involved. The premise is the same in that it will be dependent on your postcode how many jobs will be available. I've never used ABA-I but my friend does and loves it, it's rather too involved for me but I guess it depends how much spare time you have and how serious you are about it.
Survey sites and mystery shops aren't going to allow you to pay off your mortgage but they can be a great (and sometimes fun!) way to boost the family income. While the kids are in bed, you could be on your phone in front of the TV completing surverys or doing a mystery shop at the same time as the weekly grocery shop in one of the big supermarkets.
Remember to use a separate email address, to fill in as much of your profile as you possibly can and to check email or boards for work as often as time allows.
Each site will have more details regarding specific assignments and payouts including timescales.
Never join a company that requests any sort of payment from you up front ever and don't let your cash or vouchers build up too long in any one either. Valued Opinions for example have been around for years but who knows what the future holds? Cash out, whether in hard cash or vouchers, as soon as you're able.
Lastly just to be aware if you're thinking of doing this to check out the HMRC with regards to any possible tax implications.
So what do you think? Something you would give a go? If any of you do similar already and have any advice or tips we'd love to hear them!