If you are anything like me you are completely immersed in the Olympic madness and loving every minute of the games. The sportsmanship, the style, the impressive feats – these all inspire people to try for themselves and to get fit and healthy. I was already off on a health kick before this all started but every morning when I run, I think of how hard these elite athletes train whenever I get tired or feel like giving up. It really helps!
So when Aldi sent me some utterly awesome Olympic sports shakes to share with PlayPennies readers, I was delighted. These healthy blends of fruit will totally boost your energy, improve your complexion, and are the perfect replacement for that naughty mid-afternoon chocolate that we all have eaten to help cope with that 3pm slump.
The first shake was inspired by Tom Daley and has the same carbohydrate concentration as a commercial isotonic drink but is far healthier and is packed with vitamin and lots of fruit and veg that burn quickly, but release natural sugars for natural energy.
Tom's Healthy Hydrator
89 cals, 1.9g protein, 19.3g carbohydrate, 0.6g fat, 2.9g fibre
Cost per portion: approx. 46p
• 100g kiwi flesh (approx one and a half kiwis)
• 80g (2 inch piece) cucumber
• 40g seedless red grapes
You can grab these ingredients for some lovely low prices too with the Kiwi Fruit pack of six only 89p, the cucumber is 49p and the grapes are £1.39. You can make around four Tom Daley Health Hydrators for under 50p a shake. A total bargain.
Next up is the drink that makes me grin. How can it not. Any mention of Mo Farah has me beaming from ear to ear after his win and this drink is rich in natural sugars which are brilliant for drinking before your workout o run. The anti-oxidant rich berries and citrus zap those free radicals and the fibre will hold you steady until you can eat. Niiiice.
The 'Mo'tivater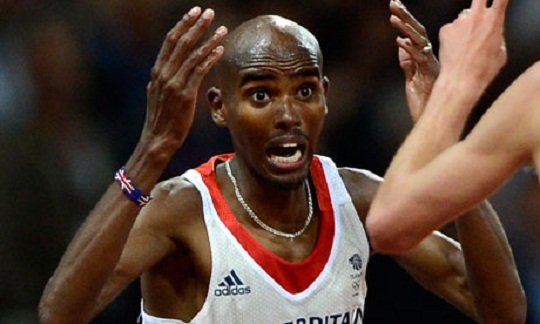 139 cals, 3g protein, 31.3g carbohydrate, 0.4g fat, 6.4g fibre.
Cost per portion: approx. 77p
• 100ml orange Juice
• 2 fresh or tinned pineapple rings
• 130g strawberries or raspberries
• ¼ of a banana
Aldi is selling all of these items for low, low prices with your total cost for all the ingredients sitting at under £5 and you can make at least three fat shakes for that amount of money with lots of stuff left over for a tasty summer fruit salad. This is a brilliant way of starting your day or instead of a sugary snack at midday.
My next favourite is the Wonder Woman – this could be dedicated to any of the lovely ladies who have given their all to the Olympic Games. And this one is packed with iron, calcium and protein for long lasting support. Women are often short on iron and it can have a long lasting impact on your system so packing it into a tasty shake like this one can only be a winner. You can even bung in some steel cut oats for a carbohydrate boost to keep you energised and full for longer.
The Wonder Woman Shake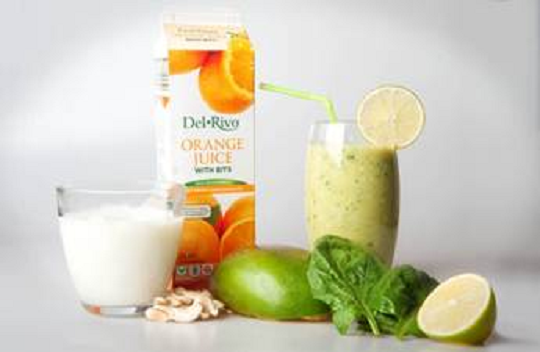 193 cals, 5.9g protein, 30.4g carbohydrate, 5.6g fat, 2.9g fibre
Cost per portion: 83p
• 100g mango flesh (approx half a mango)
• 75ml skimmed milk
• 75ml orange juice
• 25g spinach leaves (available in selected stores)
• 10g natural cashew nuts
• Juice of half a lime
Now, after all that running and exercising and chasing, you probably want something to relax with, something to ease those muscles and remove all the signs of ageing. So how about The Age Defier, a shake packed with those power fruit that are famous for their anti-oxidant properties? The blueberries and pomegranates are great for healthy cells, walnuts have that brilliant Omega 3 for healthy joints and the entire shake is fantastic for a breakfast booster.
The Age Defier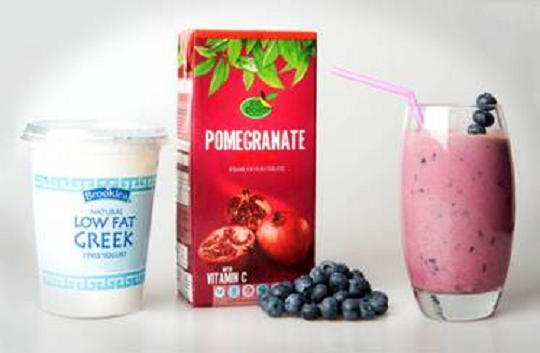 229 cals, 6.8g protein, 29.7g carbohydrate, 9.2g fat, 2.7g fibre
Cost per portion: approx. 76p
• 125ml pomegranate juice drink
• 100g blueberries
• 75g (3 heaped tablespoons) low fat Greek style yogurt
• 10g walnuts
And there you have it, some shakes to shake your world, keep you healthy and boost your energy as you get fit and train like the stars of our Olympic Games.