Murder Mystery Diamonds Aren't A Girl's Best Friend For £9.99 @ Sainsburys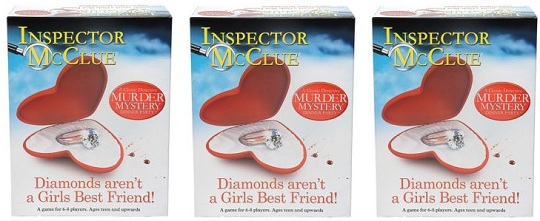 Save £5.00 on the fun and exciting Murder Mystery Diamonds Aren't a Girl's Best Friend game from Sainsburys. The new take on Cluedo and other Murder Mystery games this one was £14.99 but has now been reduced to £9.99.
Everyone's a suspect when murder is on the menu and that's exactly what happens when you play Murder Mystery Diamonds Aren't a Girl's Best Friend. This classic detective murder mystery has everything you need to serve up the perfect murder mystery dinner party.
First comes the invites, you simply choose which of your friends play which devious suspect and invite them to come along as that character. Then comes the shopping list, menu suggestions and recipes and, of course, a really tasty murder to solve.
Inside the box you'll find a party planner with game rules, recipes, music suggestions and decorating tips. The character booklets include each guest's role, a description, background information and a few tasty secrets! There are place cards, party invitations and envelopes for each character; six secret clues, a DVD with an introduction, scene setter, a summary of events and a solution to the crime.
Time to go plan a party!