 Last year Halloween hit me like a ton of spooky bricks. I was way too late to make fun cakes and take advantage of all the totally fantastic ideas that people came up with. So, to give you time to get the ingredients or be inspired, here are some of the best, most unusual and craziest cupcake ideas for your Halloween party.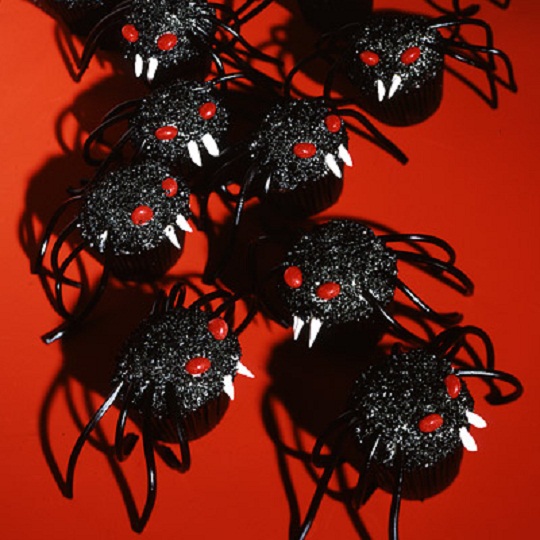 First up are the Sharp Character Cupcakes from Wiltons which are considered easy to make and are just too adorable for words. How can you resist these dudes? The site includes very detailed instructions and you can buy most of the products through them, although they are a US based site. Take a peek here to see some of the other designs that they came up with. Totally brilliant.
The Delish site has ten Martha Stewart cupcakeswith fairly easy instructions and truly creative ideas. I adore the Big-Eyed Alien and the Spiders. I'm terrified of spiders and these are truly shivertastic as well as rather cute. Better Homes and Gardens have a Halloween Cupcake Decoratingsection that has 40 different designs and ideas. These range from the fairly easy Black Cat Cupcake to the Haunted Graveyard cupcakes that are, quite honestly, pure genius. How can you NOT love them? I'm not sure I could actually eat one, they're way too pretty!
Fans of the creepy and steadfastly eerie Dexter will absolutely adore the Dexter Cupcake. Made with plain vanilla icing, shards of sugar glass and plenty of red syrup these cupcakes were originally made for the cast and crew of the show, and are easy enough to duplicate if you can get your hands on the ingredients.
The Disney website FamilyFun has ghost and spider cupcakes that are, really, rather daft in comparison to the ones that we've already seen. That said, though, the reason I chose these was because they are fantastic to make with the kids. With these Halloween cupcakes you won't mind if they're a bit broken or bent or wobbly because they are more about the fun in creating them than about looking seriously hardcore scary.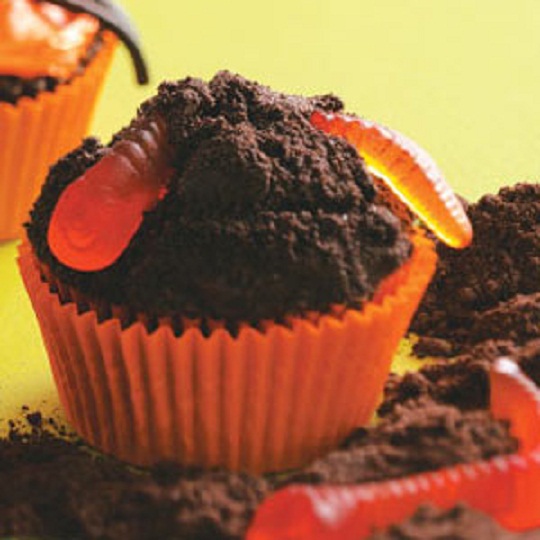 Up next is Taste of Homewith their delightfully creepy cupcakes. The one that caught my fancy was the one that looked like a worm crawling out of the dirt. Divine. And it won't matter if you mess up your cupcakes because it will definitely look like you did it on purpose. How fantabulous.
If you fancy making some zombie cupcakes thenSquawkfox has the recipe and guidelines for you. They do, however, have the best cupcake tin I've ever seen which makes creating the cupcake shapes a lot easier. In my next post I'll be writing up all the great places to get Halloween cupcake tins and accessories and all the ones that are on special. This week is just about the insanely cool ideas though…
Originally this cake was made as a birthday cake, possibly for a fan of the original Jaws movie, but it would be the best Halloween cake ever. The site has all of the instructions you need to make the cake from scratch and it looks doable, if not easy.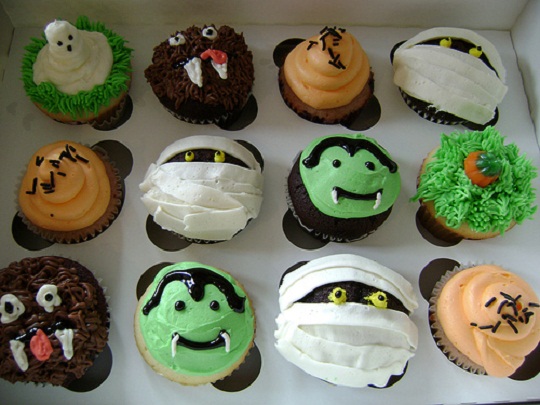 Finally, All Things Cupcakehave a complete roundup of, well, all Halloween cupcakes that took their fancy. They aren't all very good or as high tech as some of the others that I have mentioned here, but what I really like about these is how they are mostly all fun to do with the kids. Many of these lovely ideas will be dead easy to decorate at home without buying any fancy equipment too, which is great for budget ideas and for using up icing and food colouring that you've got lying around the house.
What's really important is to let your imagination run free and to make cupcakes for your Halloween party that indulge your favourite creepy crawlies. Check out this videothat shows you how to make vampire cupcakes that ooze blood when you bite into them. Brilliant!