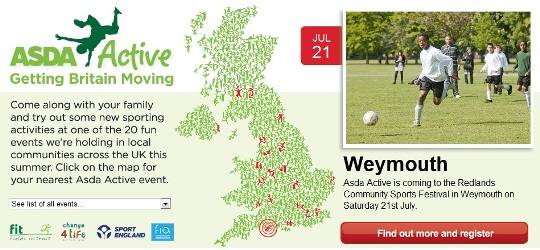 ASDA Active is the evolution of the Sporting Chance scheme which they used to run over the past few years. Now they are not giving away vouchers instore but instead doing a series of free community events across the UK.
These 20 free community events are all located on Fields in Trust Protected sites, a charity initiative supported by ASDA to mark the Diamond Jubilee. These events are aimed at encouraging parents with kids to get active and try a sport on the field and maybe even inspire them to take it up afterwards.
This supports ASDA's Community Life agenda which was launched earlier this year to support communities across the UK. ASDA has been working to build relationships with national sporting bodies like the ECB, Rugby League Foundation, and local sports clubs and charities so they can come along to the events.
Now there are a whole host of activities on offer including rugby, cricket, football, and zumba. Take a look to find your free events that are near you.