 Last week I wrote a featureon funky things to do for free for Valentine's Day and I got a lot of emails from people who loved the hairstyle idea in the piece. In fact, so many people responded to it that I thought I'd deviate from the Valentine's Day drama and head for a feature that looks at some of the best hairdo sites on the web,
Of course, I didn't just choose these sites because they had cool hairstyles for girls, I chose them based on their level of practicality and the expense involved in getting the equipment needed together. For almost every single hairstyle I have found here you can do it with a rat-tail comb, hairbands, a hairbrush, bobby pins and a spray bottle. Nothing more. Although hairspray never goes amiss… and this excludes accessories like ribbons etc. All easily achieved on a budget of under £10.
The first site is my personal favourite as the woman manages to create startling do's without requiring that you are some kind of four-handed genius – Adopt a Do. Really. I've done a bunch of these (see photo below) and I am not a hair genius by any means.
If you fancy whipping up a great do for your child (or you) then I recommend the 5 and 10 minute hairstyle categories. These can be done before school without too much fuss and bother, are great for getting the hang of things and almost every design comes with a video tutorial which is just brilliant.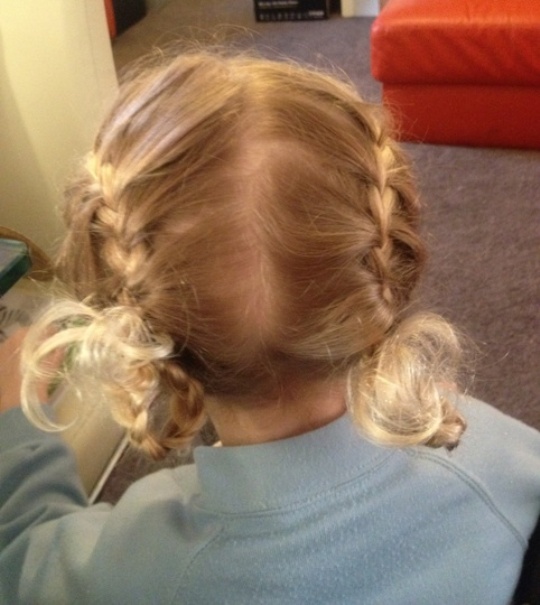 The Story of a Princess and Her Hairis a site that offers up girl's hairstyles for all generations – toddlers too! I am frankly amazed that her child sits through such an intricate hairstyle but it looks really cute. So, if you want some ideas for your daughter's baby hair, this is the site to visit.
What I really like about this site is that you can navigate according to the hairstyle you like. Go to Hairstyle Gallery and click on an album, the images will now appear along the screen with a link to the tutorial underneath. So simple. Now, these hairstyles are really quite exotic and, again, look REALLY hard but are quite simple once you get the hang of it.
My favourite is Candy Stripesand I take my hat off to her for her creativity. It looks astonishing but is really simple.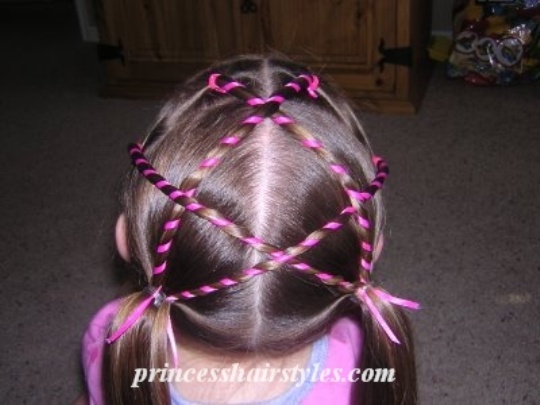 My African side was sated by the latest tutorial to come out of Girly Do Hairstyles with Jenn and Beans– Bantu Knots. She creates these really unusual hairstyles for girls and then shows them off with stunning black and white photography. It is just lovely to read and watch.
The Bantu Knots tutorial lets you make a truly funky hairdo that not only looks fab on the day, but will deliver some gorgeous curls the next day or when the hair has dried. If your daughter has straight hair and is desperate for curly, then this is where you need to go for inspiration.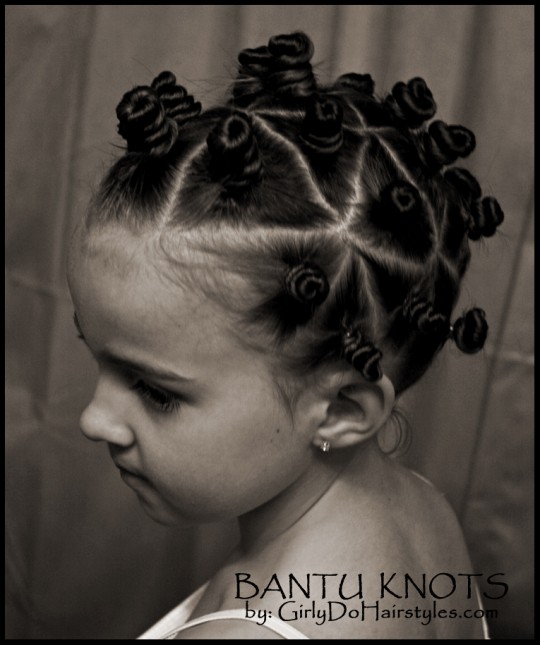 While Girly Do Hairstyles is more artistic there are still plenty of simple and easy hairstyle ideas available. I found this site a bit harder to navigate that the other two but just sporadic clicking on areas like Popular Posts had me discovering superb ideas. My personal favourite is for the girl with shorter hairand who feels left out.
Finally there is Babes in Hairland– I love their name and the blog is packed with juicy styles. What I find fascinating is that there are quite a few of these hairstyles for girls type blogs around but they all manage to do something different and cool with hair.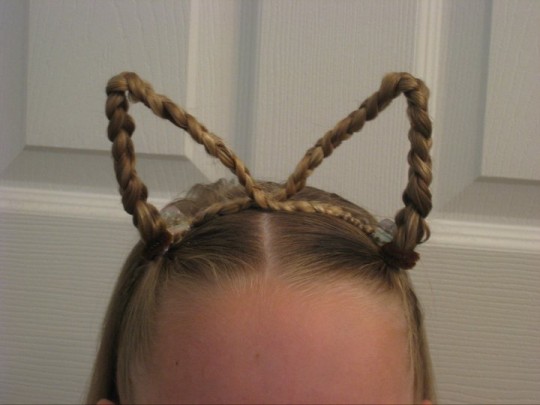 This blog has a couple of sections worth mentioning. The first is Hair 101 where she offers you brilliant tips on how to get the hairstyles, how to manage your child's hair and how to get the hair done so the kids don't kick up a fuss. My daughter has become really good at understanding my nudges and tugs so you both need to build up a routine and a way of working together, otherwise it can get quite frustrating!
Babes in Hairland is easy to navigate with sections labelled clearly and lots of great ideas. My personal favourite is Puppy Dog Earsthat, again, look hard but are dead easy.
I hope you have fun with these and please do post your pics here, I would LOVE to see all your ideas and variations.