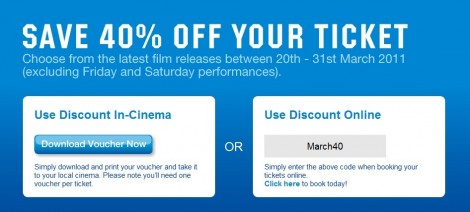 Odeon Cinemas are offering 40% off the price of their tickets from 20 March to 31 March 2011. Whether you choose to buy your tickets online or want to get them directly from the front door, this 40% discount will be utterly and completely valid.
The cost of movie tickets is, let's face it, pretty darn high, so this deal is utterly brilliant. You can use the promotional code below to get your 40% off your Odeon theatre tickets for a fabulous movie this weekend.
Discount: 40%
Promotional code: March40
Expiry: 31 March 2011
If you are not keen on booking your tickets online, you can print out a voucher to take with you. Now on to the fine print…
The ticket discount excludes movies on Fridays and Saturdays (sigh) and it is not to be used in conjunction with other special offers like Orange Wednesday, or with tickets paid for with Odeon points.
You can also only use the voucher to get a discount off one admission ticket only. This means that if you are (and correct me if I am wrong here) printing it out you could all get a discount, but if you book online only one ticket is discounted. Still, 40% off Odeon tickets, even if it is just one, is not to be sneezed at.