Four Pack Of Crazy Pets Rubbers Just £2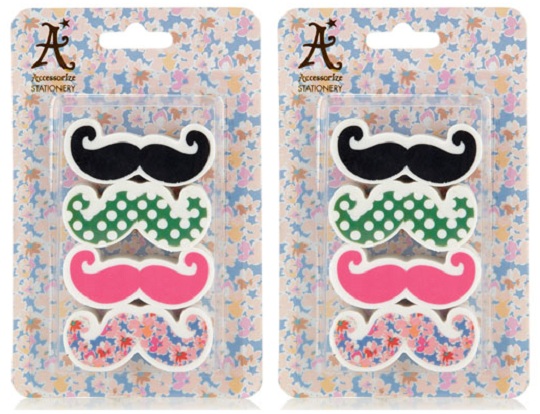 How cute is this four-pack of moustache rubbers? And for just £2 these Crazy Pets rubbers will be the envy of every girl in your daughter's class! Standard UK mainland delivery costs £3.95 and takes between three and five days.
Transform your daughter's pencil case and make her top of the class when it comes to stocking up on super cute stationery at Accessorize this month. The Crazy Pets stationery range feature hilarious images of cats sporting moustaches and top hats and dogs wearing big glasses and spotted scarves. Straight As for style all round!
These moustache rubbers compliment the tin pencil case, notepads and pens all in the Crazy Pets motif. So give your child the edge when it comes to cool and functional stationery which encourages writing and drawing. A side warning – funny collectable stationery like this is what started my love for stationery that still exists today. You name the colour pen, Ive got it in the the themes that were big in the '80s!