KTwo School Year Calendar And Mid Year Diary Review

KTwo is one of those brilliant companies that come up with super useful things that just make the administrative parts of life so much simpler. They're often the kind of things that make you look at them and go '"why didn't I think of that?!"
Two of the products that I currently own are the School Year Calendar (£12.99) and the Mid Year Diary (£9.99).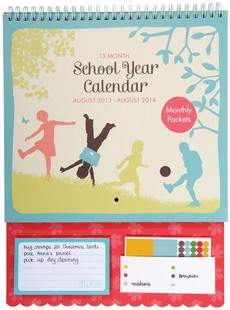 The School Year Calendar runs from August 2013 to August 2014. Each month has the list of dates and their corresponding days running down the left side, with five columns - one for each member of a five member family. There is  sixth column that could also be used, but it is titled 'Birthdays', so obviously meant to be for that, and other important to remember days. It comes pre-printed with important calendar dates, like 'British Summer Time begins' or 'Christmas Day' or 'Burns Night (Scot)', which is useful.
The last nine days of each month actually form the 'pouch' for all the bits of paper that you collect when you have children: receipts, vouchers, notes, invitations, reminders. It's  not made for heavy things, but you can certainly fit a few weeks worth of post it or other notes into it!
The calender has a static page that sticks out below it, attached to which is a sticky 'notes' pad which can be used for shopping lists and so on. The pages themselves aren't sticky, but they are tear off and carry away.
The calendar also comes with a set of stickers.

Some are pre-printed with things like  'School Photos', 'School Trip', 'School Event'  and 'No School' and some with 'term starts' and 'term ends'. Other stickers included as well are dots in five colours for repeat events – like weekly rugby games in the example picture. Finally, there are stars and 'black out' strips for weeks of holidays or special events, or whatever you need it for, really!
Along with the stickers, the pouch they're kept in serves as a code to help decipher what they all stand for, as you can write what each symbol represents right on it.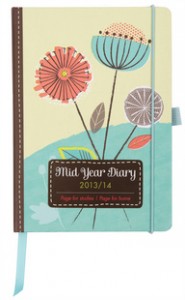 I particularly like that you can see the whole families schedule together, at a glance.
The Mid Year Diary is another great innovation. From a totally disorganised point of view, I have more than once in my life decided I need to start keeping a diary, but it's March or May and they're not easy to find in the shops. The Mid Year diary is pretty good for that!
It's purpose, really, is that it coincides with the school year rather than the actual year, which when you think about it is really, really useful!
It is a week-to view diary, which enables you to keep track of two schedules side by side, be it yours and your child's, or home and work, or home and studies or even yours and your partners. It's a useful idea, especially for people who don't want to have to  log on to their computer to see what their eCalendar says.
The diary has four storage pockets that can be used for a limited amount of tickets, receipts and lists - certainly enough to keep your shopping vouchers till next time you go to the supermarket.
I like the elastic closure strap and pen loop - they mean that whatever doesn't fit into the pockets can easily be stored in the pages on the relevant dates, and pulling it out of your handbag doesn't leave you with paper flying everywhere. Additionally, the pen has a place, and I'm not always rummaging in the bottom of my bag for it.

As with most diaries there are also sections for year planning, weekly reminders, 'notes' and timetables.
I like the look of the diary. It's small enough to fit into most handbags, but large enough to stand up to a year in a hand bag. It feels like a notebook, rather than a huge, heavy diary and the design is feminine without being girly.
The Good
I think I've pretty much listed the good things above, but in short:
It's a good price range for these types of things
It's unique and tailored to families or people with children
They are well made and will at least last the year
The designs should have global appeal
Orders over £10 come with free shipping, so it won't be too hard to get them sent to you for free
The Bad
I could do with more stickers for the calendar, but I guess I'm a bit liberal with my sticker use
Apart from that, I can't really think of any negatives
The Verdict
This is the second year in a row I'm using KTwo products in my home for the purpose of organising our time and our paperwork. Repeat business is usually a good sign of liking a product, so you can count this as my vote for it.