Clinton's Back To School Review

Clinton's have a new range of Back to School goodies, which they sent to us to review. We sent them on to PlayPennies mum Lara, and her 7 year old daughter Tessa, as the Back To School theme is quite girly: Boofle, a little knitted dog.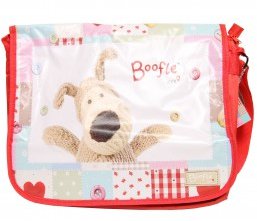 Every girl needs a bag, so the first item, the Boofle My Lovely Bag, is a satchel style bag made for carrying around books and folders to and from class.  Tessa, loved the bag from the outset.
"Immediately a hit with out tester, Tessa felt that going into Year 2 she ought to have something a bit more 'grown up' than a backpack."
But Lara wasn't quite as sure about it.
"As a parent, I wasn't that impressed with how flimsy this bag felt, considering the price."
The fact that there was also only one internal pocket didn't work for Lara either, although it did zip up, which she thought was good. "However, there are no internal compartments or pockets at all, and nothing on the exterior either."
The strap is adjustable, which at least makes it flexible, but at £12.99, Lara felt it didn't really tick all her boxes, despite Tessa loving it.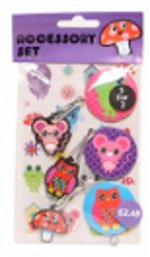 Apparently, no self-respecting young lady would dream of returning to school without decorating her bag or her book bag. The Accessory Set from Clinton's, which costs £2.49, isn't part of the Boofle set, but contains three badges, one bag charm and two bag clips and stickers. The badges are of a mouse, owl and frog, the charms and clips are a mouse, owl and mushroom, and the stickers are similar.
The charms and clips immediately went on Tessa's Boofle Bag, but the badges went on her book bag. Some of the stickers went on the bag too, but they didn't stick for very long, so Tessa decided to save them to stick on some of her homework books to decorate and personalise them.
Your Back To School kit won't be complete without a few pens, and part of the Boofle range includes a boxed set of two pens for £3.99.
The pens are decorated in the Boofle theme, and each has a dangling Boofle charm attached to the lid.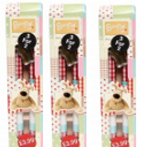 The Boofle pens are £3.99, which isn't a small price for pens – especially when you lose them as often as I do – and unfortunatey, these were hit and miss. One of the pens worked fine, but the other didn't at all.
"One of them worked just fine, but the other appeared to be both broken (the nib wouldn't stay down) and empty of ink."
Definitely something you'd end up sending back then, but cute enough if they work.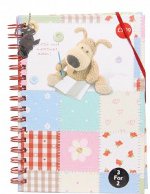 There's a lot of writing to do in school and if you're all set up with pens, you'll need a notebook. The Boofle Spiral Bound Notebook for £3.99 is really cute in appearance and it's available in A6, A5 or A4 sizes.
This too has a dangly Boofle on a chain attached to the spiral, which apparently delighted Tessa.
"She immediately declared it was her journal, and walked about carrying it, and the pen, looking thoughtful for many days."
The pages are nicely, widely lined, Lara told us, and there's a little Boofle illustration on thee corner of each page.
"To make Tessa feel even more like it was a proper, grown up notebook, there's an elastic band attached to the back cover to keep the notebook closed, or to hold the pages down while you write."
Lara felt this and the pens went really well together.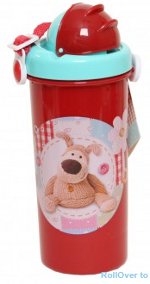 Finally, there was a Boofle Lunch Bottle, a bottle with a lid and straw that secured so it doesn't leak out.  While it definitely looks like something that would appeal to a small child, Lara found that Tessa really had to apply a lot of force to it to open it, which meant she spilt her juice on herself.  She did say it might just be that bottle though.
Each of these items are part of the 3 for 2 back to school offer – when you buy any three products, the cheapest item is free while stocks last.
Lara felt she wouldn't pay the full price for the bag, but if it was about half that price, she would consider it. (This will be a personal preference too though – I definitely prefer a bag with less pockets and places to lose things!). She does  feel that the 3 for 2 offer definitely makes the other items worthwhile though.